The Devil of Nanking (Paperback)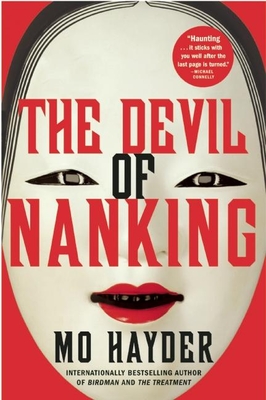 $14.00
It's complicated, and may be unavailable. Place an order and we will contact you with the expected arrival date.
Staff Reviews
---
Terrifying, erotic, and creepy, this one's empowering for those who think female characters have a right to be less than sympathetic.
— Molly
Description
---
"Dazzling . . . In this extremely creepy book, Hayder's third, the diabolically gifted British author spins a fascinating mystery from the legacy of Japanese atrocities during World War II."--Entertainment Weekly "A haunting, lyrical, disturbing, important, suspenseful, wonderfully written and beautiful book. You will love reading it, and you will not soon forget the experience."--Harlan Coben Grey has a lot to prove and even more to hide. A young Englishwoman obsessed with a past she cannot understand, she has come to Tokyo following rumors of a rare piece of film footage shot during the notorious Nanking Massacre in 1937, which has been lost for decades. But the only man who can help, a survivor of the massacre and now a visiting professor at a prestigious Tokyo university, will have nothing to do with her. Increasingly desperate in an alien city, Grey accepts a job as a hostess in an upmarket nightspot catering to Japanese businessmen and wealthy yakuza, where one gangster--an old man in a wheelchair surrounded by a terrifying entourage, rumored to rely on a powerful elixir for his continued health--might be the key to the answers Grey seeks. Taut and gritty, with the redolent atmosphere of Ian Rankin and the spine-tingling characters of Thomas Harris, The Devil of Nanking is a tour de force that confirms Mo Hayder as a thriller writer of the first order. "Wrenching . . . A beautifully controlled thriller about culture clash . . . Scary."--Douglas Wolk, The New York Times Book Review "There is a terrible beauty to both narratives as they unfold toward an agonizing but inevitable conclusion, with the two stories dovetailing exquisitely . . . The Devil of Nanking just may be one of the best books of the year."--Tom and Enid Schantz, The Denver Post
About the Author
---
Mo Hayder has worked as a filmmaker, a Tokyo nightclub hostess, and a teacher. She is also the author of Birdman, The Treatment, Pig Island, Ritual, Skin, Gone, Hanging Hill, and Poppet.