Books On Our Site May Not Be Available In-Store
Is This Book In Stock? Be Savvy! Check availability details beneath the blue "Add to Cart" button.
The Lost Detective: Becoming Dashiell Hammett (Hardcover)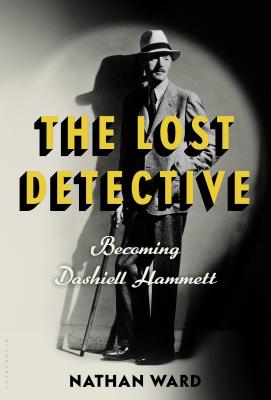 $26.00
Out of Stock; Usually Arrives in 2-5 Days
Description
---
A 2016 Edgar Award Nominee
Before he became a household name in America as perhaps our greatest hard-boiled crime writer, before his attachment to Lillian Hellman and blacklisting during the McCarthy era, and his subsequent downward spiral, Dashiell Hammett led a life of action. Born in 1894 into a poor Maryland family, Hammett left school at fourteen and held several jobs before joining the Pinkerton National Detective Agency as an operative in 1915 and, with time off in 1918 to serve at the end of World War I, he remained with the agency until 1922, participating alike in the banal and dramatic action of an operative. The tuberculosis he contracted during the war forced him to leave the Pinkertons--but it may well have prompted one of America's most acclaimed writing careers.
While Hammett's life on center stage has been well-documented, the question of how he got there has not. That largely overlooked phase is the subject of Nathan Ward's enthralling The Lost Detective. Hammett's childhood, his life in San Francisco, and especially his experience as a detective deeply informed his writing and his characters, from the nameless Continental Op, hero of his stories and early novels, to Sam Spade and Nick Charles. The success of his many stories in the pulp magazine Black Mask following his departure from the Pinkertons led him to novels; he would write five between 1929 and 1934, two of them (The Maltese Falcon and The Thin Man) now American classics. Though he inspired generations of writers, from Chandler to Connelly and all in between, after The Thin Man he never finished another book, a painful silence for his devoted readers; and his popular image has long been shaped by the remembrance of Hellman, who knew him after his literary reputation had been made. Based on original research across the country, The Lost Detective is the first book to illuminate Hammett's transformation from real detective to great American detective writer, throwing brilliant new light on one of America's most celebrated and remembered novelists and his world.
About the Author
---
Nathan Ward, who was an editor with American Heritage, has written for The New York Times and other publications. He lives in Brooklyn, New York, not far from the Red Hook piers. He is the author of Dark Harbor: The War for the New York Waterfront and The Lost Detective: Becoming Dashiell Hammett.
Praise For…
---
"Funny thing about books, some of them are a delight and a pleasure. Thus Nathan Ward's The Lost Detective--yes it's very well-written, yes the history is carefully done, but it has that glow. So, this you will like." —Alan Furst, author of MIDNIGHT IN EUROPE
"The Lost Detective humanizes my grandfather, while at the same time illuminating the context of his life and times. Links between Hammett's fiction and Pinkertons and his early (pre-Hellman) family life are particularly satisfying." —Julie M. Rivett, co-editor of SELECTED LETTERS OF DASHIELL HAMMETT and THE HUNTER AND OTHER STORIES
"As a devoted Hammett aficionado, I've read most books about him and published his daughter's memoir, but learned so much in this captivating examination of the great author's life that I feel compelled to reread his complete works with far deeper understanding than ever before." —Otto Penzler, Editor, THE BEST AMERICAN NOIR OF THE CENTURY
"The Lost Detective is full of stimulating insight into how the novice writer shaped real-life experience into vital fiction." —The Wall Street Journal
"Ward's focus on the origins of Hammett's writing style and his connecting the events of the author's background to the fiction are the highlights of this brief, accessible biography . . . Highly recommended." —Library Journal
"As brisk and conversational as a magazine feature, The Lost Detective invites readers not just to explore Hammett's early years in more detail and consider how those formative experiences helped shape his writing career, but also . . . to look at how the Hammett persona was created. And as we Hammett fans know, there are few personas, few writers in 20th-century literature period, more interesting to read about." —The Washington Post
"A gritty portrait of the 20th century's great pulp poet Dashiell Hammett, who turned his days gumshoeing for the Pinkerton Detective Agency into bawdy and muscular American classics." —O, the Oprah Magazine
"[H]ighly entertaining . . . captures what it feels like to read Hammett's early work and, as Ward says, 'watch a sickly ex-detective in his late twenties, with an eighth-grade education, gradually, improbably, teach himself to write.'" —The Boston Globe
"Nathan Ward shows that Hammett's innovative style did not, as it may have seemed, spring fully formed like Athena from the head of Zeus . . . With deft investigative work, Ward shows how much of Hammett's fiction owed to Pinkerton reports . . . a lively, witty account of how Hammett came to be Hammett--a portrait of the artist, if you will, as a cynical man." —Chicago Tribune
"[A] splendid biography of this keystone figure of American letters. Fittingly, there have been numerous biographies of Hammett . . . but none have explored as deeply his life before he became a writer. There can be little doubt that Hammett's work with the Pinkertons was the greatest influence on who he became, both as a person and as an author . . . Ward wisely chose to focus on Hammett's formative years." —Otto Penzler in THE NATIONAL REVIEW
"Nathan Ward's book shines a detective's flashlight on Hammett's early development." —Buffalo News
"Hardboiled crime novel fans will find Ward's research into what it meant to Hammett to be an actual detective before he wrote about them quite fascinating." —ShelfAwareness
"With its sharp focus and strong hook, The Lost Detective is a fascinating read [that] casts Hammett in a new and intriguing light." —Herald Scotland
"Investigative biographer Nathan Ward brings those offstage influences alive in The Lost Detective: Becoming Dashiell Hammett . . . Ward's own narrative pace and procedure are not unlike his subject's--smart, terse and entertaining. The story has been told before but never with such rigor, verve and thoughtful attention to the formative years of the man who provided The Maltese Falcon (1929) and The Thin Man (1933)." —The Virginian-Pilot
"Beguiling . . . The Lost Detective is a dazzling display of literary detection." —Sydney Morning Herald