Reimagining Equality: Stories of Gender, Race, and Finding Home (Paperback)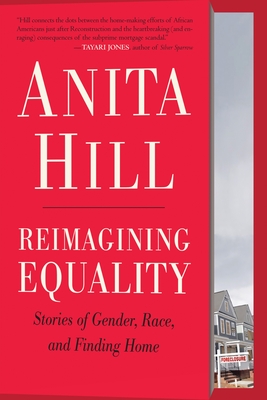 $18.00
Backordered. Place an order and we will let you know when to expect your book.
Description
---
From the heroic lawyer who spoke out against Clarence Thomas in the historic Supreme Court confirmation hearings 
 
"This ambitious book provides just as dignified and well intentioned a performance as the one she gave at those hearings."
—Megan Buskey, The New York Times Book Review
 
Through the stories of remarkable African American women, including her own great-great-grandmother, playwright Lorraine Hansberry, and Baltimore beauty-shop owner and housing-crisis survivor Anjanette Booker, Anita Hill demonstrates that the inclusive democracy our Constitution promises must be conceived with home in mind. From slavery to the Great Migration to the subprime mortgage meltdown, Reimagining Equality takes us on a journey that sparks a new conversation about what it means to be at home in America and presents concrete proposals that encourage us to reimagine equality.
About the Author
---
Anita Hill is a professor of social policy, law, and women's studies at Brandeis University. She is the author of Speaking Truth to Power, in which she detailed her experience as a witness in Clarence Thomas's Supreme Court confirmation hearings. 

Praise For…
---
"An eloquent continuation of her giving voice to the invisible, the voiceless, the undocumented, the hopeless and, yes, the all too literally homeless." —Patricia J. Williams, The Nation

"This ambitious book provides just as dignified and well intentioned a performance as the one she gave at those hearings." —Megan Buskey, The New York Times Book Review

"Hill superbly articulates the nuanced spaces inside the home where gender inequities might be present, and outside the home where gender and race disparities create barriers to housing stability. She concludes with a call to US leaders and citizenry to proactively engage as partners for a more just society. Summing Up: Recommended. All academic levels/libraries."—Choice

"Serious readers of all kinds, especially those interested in current affairs and social policy, will appreciate a book that is both highly readable and deeply analytical."—Library Journal 

"In the first sweeping history of Parks's life, Theoharis shows us a long-time activist committed to fighting white supremacy from her earliest days. From underground investigations of white-on-black rapes in rural Alabama, where no law respected or protected black people, to her work alongside Robert Williams, Malcolm X, and Queen Mother Moore, Rosa Parks not only sat down on the bus; she stood on the right side of justice for her entire life."—Julian Bond, chairman emeritus, NAACP

"With extraordinary grace and clarity, Anita Hill weaves the story of her family with that of other American families struggling to find and define homes for themselves. What emerges is a powerful story of our nation's ongoing quest for equality of opportunity, viewed through the eyes of the people who have been deeply engaged in that quest. Beautifully written, elegantly seen, compellingly argued."—Robert B. Reich, author of Aftershock

"It has taken an astute author to find the real Rosa Parks. . . . Parks was no accidental heroine. She was born to it, and Theoharis ably shows us how and why" —Kirkus Reviews 

"Her book, lucid about law, lively with smatterings of history and reminders of cultural markers, may open that conversation."—Publisher's Weekly

"Combining the sincerity of memoir and the rigor of sociology, Anita Hill looks at home as a physical space, but also as a microcosm of American society. The women profiled in this engaging and moving book illustrate the challenges of living in America as a raced and gendered person while simultaneously demonstrating the beauty of resistance and the triumphs of family, community, and faith. Hill connects the dots between the home-making efforts of African Americans just after Reconstruction and the heartbreaking (and enraging) consequences of the subprime mortgage scandal. After reading this book, you will never see a house as just four walls and a roof. It is a dream and we, as Americans, are the dreamers."—Tayari Jones, author of Silver Sparrow

"Anita Hill's bravery, intellect and commitment to justice galvanized a generation of women. If that weren't enough, it turns out she's also a wonderful story-teller. Re-Imagining Equality will change your ideas about home, race and gender—and it's also great fun to read."—Peggy Orenstein, author, Cinderella Ate My Daughter

"In a book that is rigorous and heartfelt, sharply analytical and deeply moving, Anita Hill examines the idea of what 'home' means to Americans. Bringing to bear her formidable skills as a scholar of American law, history, and culture, Hill has produced a personal narrative that reaches across color and class to explore how our family homes and our national home are inextricably linked to how we understand achievement, opportunity, and equality."—Henry Louis Gates, Jr., Alphonse Fletcher University Professor, Harvard University 

"In her new book, Reimagining Equality: Stories of Race, Gender, and Finding Home, Professor Anita Hill has written a sobering and compelling book about the plight of woman historically and now. This book is a must read for anyone who is committed to gender equality, and will be invaluable to those who are trying to understand many of the burdens that women, black and white face, in their everyday lives. An easy read, this book has both tragic and triumphant stories and covers the life of women through slavery, and those who now live in the Obama era. They remind us that we still have to come to grips with issues of race and gender, and that we need to re-imagine the question of equality for all. I recommend it with great enthusiasm and excitement about its value to a large audience of readers."—Professor Charles J. Ogletree Jr., author of The Presumption of Guilt: The Arrest of Henry Louis Gates Jr. and Race, Class, and Crime in America