The Winter Queen: A Novel (Erast Fandorin #4) (Paperback)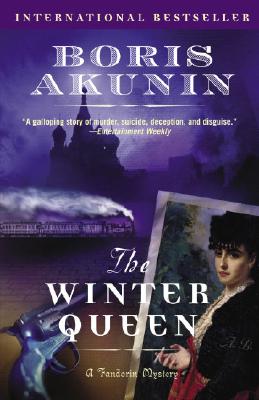 Other Books in Series
This is book number 4 in the Erast Fandorin series.
Description
---
Moscow, May 1876. What would cause a talented student from a wealthy family to shoot himself in front of a promenading public? Decadence and boredom, it is presumed. But young sleuth Erast Fandorin is not satisfied with the conclusion that this death is an open-and-shut case, nor with the preliminary detective work the precinct has done–and for good reason: The bizarre and tragic suicide is soon connected to a clear case of murder, witnessed firsthand by Fandorin himself. Relying on his keen intuition, the eager detective plunges into an investigation that leads him across Europe, landing him at the center of a vast conspiracy with the deadliest of implications.
About the Author
---
BORIS AKUNIN is the pen name of Grigory Chkhartishvili, who was born in the republic of Georgia in 1956; he is a philologist, critic, essayist, and translator of Japanese. He published his first detective stories in 1998 and in a very short time has become one of the most widely read authors in Russia. He has written nine Erast Fandorin novels to date, and is working on two other series as well. Akunin enjoys almost legendary popularity in Russia. He lives in Moscow.

ANDREW BROMFIELD was born in Hull in Yorkshire, England. He has lived in Moscow for long periods, where he co-founded and edited the literary journal Glas, and now lives and works in rural Surrey. He is best known for his acclaimed translations of the stories and novels of Victor Pelevin, including The Life of Insects, Buddha's Little Finger, and Homo Zapiens.

Praise For…
---
"A galloping story of murder, suicide, deception, and disguise."
–Entertainment Weekly


"As international as caviar and vodka! A crafty tale full of atmosphere, character, and action."
–Anne Perry

"Marries old-fashioned manners to a nonstop array of plot twists to rival the best detective tales . . . The Winter Queen is an energetic hands-down winner."
–People

"There are secret panels, hidden tunnels, a false mustache, intercepted letters, gunfights, and a glamorous female villain. . . . Akunin knows how to build suspense."
–The Boston Globe

"A wondrous strange and appealing novel . . . Elaborate, intricate, profoundly czarist, and Russian to its bones, as though Tolstoy had sat down to write a murder mystery. Not quite like anything you've ever read before."
–Alan Furst, author of The Foreign Correspondent