Books On Our Site May Not Be Available In-Store
Is This Book In Stock? Be Savvy! Check availability details beneath the blue "Add to Cart" button.
Sky Over El Nido (Flannery O'Connor Award for Short Fiction) (Paperback)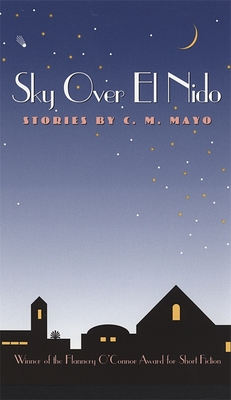 $19.95
Usually Ships in 2-5 Days
Description
---
Mother rescued the three zebras that escaped from the London zoo --so begins the first story in this whirlwind collection by C. M. Mayo. Though Mayo's characters ricochet around the globe in search of diversion, money, enlightenment, cachet, and escape, she sets many of the stories in "Sky Over El Nido" in Mexico. This is not the gringo's Mexico of margaritas, mariachis, and inscrutable house servants, but a fin-de-siecle world where a Mexican boy who guards tourists cars for small change wears a T-shirt that says Six Flags Over Georgia. Mayo's strangely beautiful yet disturbing stories reveal characters who envision the solutions to their lives in a world where nothing is stable, nothing can be nailed down, and we are all suddenly, dizzyingly faced with sharing the same pitiless sky.
About the Author
---
A native of Texas, C. M. Mayo now lives in Mexico City. She has published stories in the "Paris Review," "Southwest Review," "Northwest Review," and the "Quarterly."
Praise For…
---
"C.M. Mayo writes some of the most exquisitely fashioned, perfectly measured prose alive in the world today. Her stories glitter with delicious odd details. They feel electrically charged, richly mysterious, and rhythmic. I love her layering of cultures, her offbeat humor, her potent instinct for voices. Bravo! Captivating! Yes, yes, yes!"--Naomi Shihab Nye

"The haywire circuits of our whole electrically but not ethically connected global village stand exposed in Mayo's work."--Commonwealth

"A remarkable literary debut."--Publishers Weekly (starred review)

"Will keep many readers eagerly turning pages . . . A very promising debut."--Los Angeles Times

"This first collection of Mayo's stories, which won the Flannery O'Connor award for short fiction, is characterized by a fine eye for detail. The author sets the pieces in Mexico and in cosmopolitan areas throughout the world. From the opening story, in which a jaded upper-class Mexican matron muses episodically on her ambivalent relationship with her recently deceased mother (revealing telling aspects of both women's characters), to the riveting hallucinations of a young woman freezing to death in a snowstorm to the perceptions of a political prisoner, Mayo demonstrates mastery of a range of settings and characters. Her primary theme is the ironic juxtaposition of extreme poverty and affluence, occasionally presented a bit heavy-handedly, as in 'Davy Whittlespoon Rex.' She narrates lives of quiet, but more often defiant, desperation. This is a promising debut, suitable for general and undergraduate collections."--Choice

"The stories are somewhat fantastic and can startle the reader with their occasional macabre details. The first story, 'Chabela del Rio y de la Fuente Contreras, Thrice Married (Once Divorced), Reflects on Her Relationship with Her Mother While Lying on Her Bed, Mexico City, 1990,' introduces that aspect with Chabela contemplating a woman who once rescued three zebras that had escaped from the London zoo. In that regard, and in the offbeat humor, her work is reminiscent of Flannery O'Connor's. And like that old master, Mayo is addictive and her collection has a unity that is very satisfying."--Booklist

"In this short-story collection, distinguished by intriguingly elliptical story lines and coolly precise prose, Mayo makes a remarkable literary debut. The author sets her stories all over the globe, but she favors Mexico, particularly the wealthier enclaves of Mexico City. Most of the 13 stories here follow the same template?a glimpse of a life thrown out of balance, followed by an ambiguous conclusion?and combine sympathy with critical reserve. A Mexican art student escorts his Japanese girlfriend (swathed in Moschino, daubed with Chanel, held blithely aloft with hallucinogens) through the Yucatan; a poet drunkenly toys with the sinewy, menacing pet jaguarundi of her former mistress. Elsewhere, a matron at a wedding dives after a drowning child in a gesture poised between self-sacrifice and suicidal despair; and, in the companion stories that open and close the book, a businessman, exhausted by the glitzy, hollow lives he and his cold, lovely wife lead, reaches out to a homeless man with AIDS on a Manhattan sidewalk. The stories hold bathos at bay with tautly fashioned prose, alive with myriad turns of phrase as on-target as they are idiosyncratic: a bibulous housewife's face resembles 'a boiled tomato'; to Albert, lovely Eiko's laugh is 'like a piccolo'; a woman's braids 'writhe on her back like snakes.' Deservedly, Mayo's collection has won the Flannery O'Connor Award for Short Fiction"--Publishers Weekly

"Thirteen highly accomplished stories . . . With a cool eye and a suggestive voice, Mayo offers glimpses of a corrupt and decadent jet-set based mostly in Mexico City. The two stories that frame the collection provide alternate versions of Mexican society: the first, 'Chabela del Rio . . .,' is told by an aging, thrice-married woman of glamour, the daughter of the former ambassador to the Court of St. James, who, in her anecdotage, remembers the splendors of her international life. The last, 'Rainbow's End,' deflates Chabela's high-flown account; her third husband, a low-born peasant who's made his fortune from the graft bestowed by his politician brother, tries to satisfy his classy wife, though he's aware of her contempt for his vulgarity. Overall, Mayo's largely impressionistic Latin tales have the brittle, snapshot qualities of, say, Joan Didion's fiction. . . . The observed details and refracted style here define a talent worth attending to: a distinctive debut."--Kirkus Reviews