Dietrich & Riefenstahl: Hollywood, Berlin, and a Century in Two Lives (Hardcover)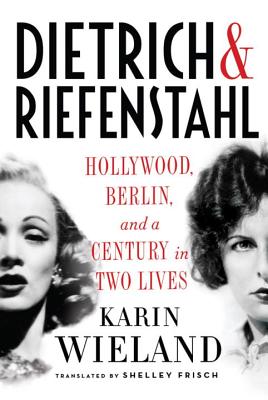 Description
---
Born at the dawn of the twentieth century, Leni Riefenstahl and Marlene Dietrich both came of age in Weimar Berlin, a time of great political ferment. Glamour and decadence thrived beside abject poverty, and the German capital's outpouring of literature, fashion, and film marked it as the most vital European metropolis. As young women of this era, Dietrich and Riefenstahl lived so close to each other that Riefenstahl could see into Dietrich's apartment from the roof of her building. Both women seized upon the revolutionary energy of the 1920s, seeking careers on the stage and in film.
In 1929, filmmakers were casting what would become the iconic role of Lola-Lola (who made "Falling in Love Again" a sensation) in the groundbreaking sound film The Blue Angel. Riefenstahl--whose work in her "mountain films" had already made her a national emblem for the athletic rigor and spirited independence of the New Woman--hoped for the part but didn't get it. Only a few years later she became the official filmmaker of the Third Reich. Dietrich, however, won the role and the adoration of millions when she moved to Hollywood and redefined the "vixen" for a new era.
While Dietrich's slender and androgynous beauty made her a fashion icon whose influence can be seen to this day, Riefenstahl's own iconography is no less indelible. With her work on two of the most notorious--if artistically sophisticated--propaganda films of all time--Triumph of the Will and Olympia--Riefenstahl was a progenitor of fascist symbolism. After the war she proclaimed her ignorance of Hitler's motives, but she could never completely distance herself from her Nazi collaboration. Dietrich vehemently condemned Hitler during World War II and found a renewed sense of purpose touring with the USO, but as a result she could never comfortably return to her native Germany.
Both women were "prodigies of will, discipline, endurance, self-reinvention, and exaltation of the body in all its muscular, androgynous, pose-striking pagan glory" (James Wolcott), and both had their grand passions, but neither abandoned ambition for the sake of love. As award-winning biographer Karin Wieland shows, in their later years, both women grappled with controlling their image--Riefenstahl by pursuing an additional career in photography, and Dietrich by eventually hiding at home as her famous beauty was ravaged by time.
Skillfully juxtaposing these two fascinating lives, Wieland brings to vivid life a time of international upheaval, chronicling radical evolutions of politics, fame, and femininity on a grand stage. Examining the moral responsibility of the artist, Wieland poses questions as deeply relevant to our century as to the last. A magisterial portrait of two diverging but lasting images of the modern woman, Dietrich & Riefenstahl is "a superb" (Die Zeit) panorama of the twentieth century.