Books On Our Site May Not Be Available In-Store
Is This Book In Stock? Be Savvy! Check availability details beneath the blue "Add to Cart" button.
Arcadia: A novel (Hardcover)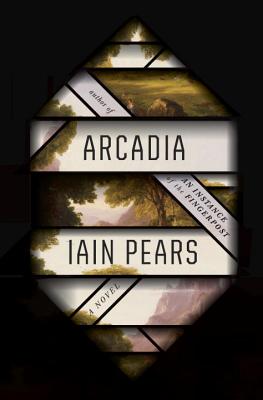 $27.95
It's complicated, and may be unavailable. Place an order and we will contact you with the expected arrival date.
Staff Reviews
---
"Known primarily as a writer of wonderfully detailed and exciting mysteries, Pears breaks away from familiar territory to bring us a marvelous tale dealing with time travel and trans-dimensional travel that is riveting and so much fun to read! When Professor Henry Lytten creates his Anteworld stories, much like C.S. Lewis' Narnia, he does so for his own entertainment, but when Rosalind, a teen age neighbor who looks after Lytten's cat, steps through a mysterious door in his cellar and finds herself in the fictional world he has created, it begins to have a life of its own. In the far future, a scientist has created a machine to travel through time and which her employer will try use to make itself wealthy. She will encounter Lytten in this past and have a part to play in its future - if it has one. Great characters and witty dialogues help drive the story that is easily my favorite read of 2016 so far."
— Raul
Description
---
From the author of the international best seller An Instance of the Fingerpost, Arcadia is an astonishing work of imagination. 

Three interlocking worlds. Four people looking for answers. But who controls the future—or the past?

In 1960s Oxford, Professor Henry Lytten is attempting to write a fantasy novel that forgoes the magic of his predecessors, J. R. R. Tolkien and C. S. Lewis. He finds an unlikely confidante in his quick-witted, inquisitive young neighbor Rosie. One day, while chasing Lytten's cat, Rosie encounters a doorway in his cellar. She steps through and finds herself in an idyllic, pastoral land where Storytellers are revered above all others. There she meets a young man who is about to embark on a quest of his own—and may be the one chance Rosie has of returning home. These breathtaking adventures ultimately intertwine with the story of an eccentric psychomathematician whose breakthrough discovery will affect all of these different lives and worlds. 

Dazzlingly inventive and deeply satisfying, Arcadia tests the boundaries of storytelling and asks: If the past can change the future, then might the future also indelibly alter the past?
About the Author
---
IAIN PEARS is the author of the best sellers An Instance of the Fingerpost, The Dream of Scipio and Stone's Fall, and a novella, The Portrait, as well as a series of acclaimed detective novels, a book of art history, and countless articles on artistic, financial and historical subjects. He lives in Oxford, England.
Praise For…
---
"Every so often you read a novel to which the best critical response is simply 'Wow!,' followed by a sigh of pleasure. Eighteen years ago I felt this way about Iain Pears's intricate historical mystery An Instance of the Fingerpost. The book dazzled for many of the usual reasons—fascinating characters, a richly presented fictive world, polished writing, lively dialogue, a serious engagement with ideas about life and morality—but, more unusually, it was also a masterpiece of plot construction. All this is again true, and then some, of Mr. Pears's Arcadia. . . . 'Qui moderatur tempus intelligit omnia,' goes the Lytten family motto: 'He who controls time understands everything.' Doesn't that actually describe the art of plot construction and its master, Iain Pears?" 
  —Michael Dirda, The Wall Street Journal
 
"[Pears] is a master at creating structurally intricate novels. . . . As Pears steadily builds his multiplicity of stories, his orchestrations become something far more ambitious, a calculated and at times quite droll assault on the very nature of narrative itself." 
   —Steve Donoghue, The Washington Post

"Arcadia leads readers into an escalating series of interconnected textual worlds. . . . Pears is a great writer of ideas and intellectual adventure." —The New York Times Book Review

"A complex romp through time and genres . . . that intertwines 10 major characters over several centuries, with allusions abounding to Tolkien, C.S. Lewis, Shakespeare, and a raft of others. . . . [It's] fun to puzzle out how all the strands fit together." 
   —Patricia Hagen, Star Tribune (Minneapolis)

"With Arcadia, Iain Pears has woven a delightful tapestry in the bold colors of complexity, wonder, and irony, even while offering the careful reader a chance to ferret out numerous literary allusions. Arcadia is filled with satisfying surprises up to the last sentence of its telling. Only a novelist with the knowledge and mental agility shown again and again by Iain Pears could give readers a gift as rich as Arcadia." 
   —Dan Simmons, best-selling author of The Terror

"Arcadia is a gripping tale, with memorable characters who lead us through the plot's twists and turns to the book's deeply satisfying resolution. Iain Pears has long been one of my favorite authors, and Arcadia is another example of his masterful storytelling: deftly told, genre-defying, and a treat to read." 
   —Deborah Harkness, best-selling author of A Discovery of Witches
 
"A fantastical extravaganza . . . A complex time-travelling, world-hopping caper with insistently epic stakes." 
   —Steven Poole, The Guardian
 
"Pears's prose is a pleasure to read . . . A dream of perfection in beautiful language . . . A compelling narrative; switching from one [storyline] to another means we are constantly in a state of suspense . . . I was entirely captured." 
   —Marion Halligan, The Sydney Morning Herald
 
"A many-layered narrative in which real and imagined worlds continually collide . . . Aficionados of fantasy fiction will find plenty here to relish." 
   —Max Davidson, The Mail on Sunday

"The most striking thing about Pears's writing—his plots and ideas are complex, but his style is simple and clear. . . . Fantastic fun and, in spite of its complexity, a swift read."
   —Bryan Applebaum, The Sunday Times
 
"Not so much a novel as a cornucopia of narratives. . . . As a novelist, Iain Pears doesn't repeat himself, and he gives with a generous hand." 
   —Andrew Taylor, The Spectator
 
"Extremely clever but, better than that, immensely entertaining . . . Pears almost seamlessly merges genres of fantasy, sci-fi, spy thriller, romance, and more." 
   —Jaine Blackman, The Oxford Times