The Final Country (Milo Milodragovitch #2) (Paperback)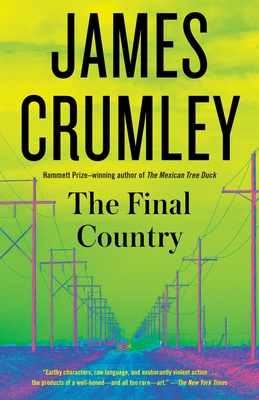 Description
---
A NEW YORK TIMES Notable Book

It's business as usual for Milo Milodragovitch, watching a relationship go sour and running a bar whose real business is cleaning some dirty money, until he gets sent off to hunt a drug dealer's killer. Prodded by the twin motivations of his prickly conscience and his tight finances, Milo sets off on a trip to find the promised land. The end of the road will be where he first began: Montana, where a beautiful woman, a dangerous man, and a motherlode of truth are waiting for their favorite son to come home—bringing with him a gun, a plan, and a prayer.
About the Author
---
James Crumley was born in Three Rivers, Texas, and spent most of his childhood in South Texas. After serving three years in the U.S. Army and completing college degrees in history (BA, Texas College of Arts and Industries) and creative writing (MFA, University of Iowa), he joined the English faculty at the University of Montana at Missoula. He was also a visiting professor at a number of other institutions around the country, including the University of Texas at El Paso, Colorado State University, Reed College, and Carnegie-Mellon. His works include a novel of Vietnam, One to Count Cadence, and seven detective novels: The Wrong Case, The Last Good Kiss, Dancing Bear, The Mexican Tree Duck, Bordersnakes, The Final Country, and The Right Madness. He died in Missoula in 2008.
Praise For…
---
"Earthy characters, raw language, and exuberantly violent action. . . . The products of a well-honed—and all too rare—art."—The New York Times

"Road-ready, wry, lyrical, and explosive, this is Crumley at his best, which means it is one of the best books of its kind you will ever read."
    —George Pelecanos, author of The Double

"[Milo is] one of literature's more interesting sleuths. . . . Crumley once again is in good form, his strong voice ringing true on every page."
    —San Francisco Chronicle
 
"Crumley . . . is pumped up and writing for his life again. For all his remarkable ease of style, the earthy characters, raw language and exuberantly violent action that distinguish it are the products of a well-honed—and all too rare—art."
    —The New York Times

"James Crumley is an American poet. Like a true artist, he does not merely reflect our culture, he subverts it. The Final Country is simply one of the best books you can read this year."
    —Kinky Friedman

"This book is so tight and powerful it could be carved in granite. The plot tends to cruise along with the ease of an Eldorado with a crankcase full of Southern Comfort. . . . He's not the most prolific American crime writer, but crime fiction aficionados have learned that, like good scotch, Crumley's novels take a little more time than the ordinary stuff."
     —Austin Chronicle

"Reading this book is like drinking exceptional wine after years on cheap stuff. You start to gulp it down, greedy for the buzz, then realize you need to slow down and savor each drop. I pity people who haven't read Crumley. And I envy them, because they still have a chance to discover him."
    —Laura Lippman

"The pleasures of Crumley come from the language, the characters and the unexpected depth of emotion. The language is on display everywhere, not as beautiful and rich as that of Crumley's Montana neighbor James Lee Burke, but just as evocative."
     —The Oregonian

"If you like your detective fiction tough and tenacious, you will love James Crumley. . . . No one does it better." —The Houston Chronicle

"James Crumley is a first-rate American writer. . . .  pyrotechnically entertaining, sexy, compassionate." —The Village Voice