Eleanor & Park: Exclusive Special Edition (Hardcover)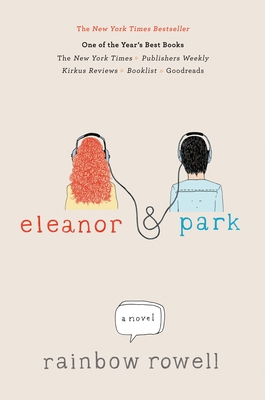 Staff Reviews
---
"The story of two teenage outcasts, you will fall in love with Eleanor
& Park as they fall in love with each other. This book is extremely
endearing, partly because of the 1980's nostalgia, but mostly because of
its honest look at first love."
— Consuelo
"When Eleanor and Park meet they don't immediately hit it off. They are both misfits from dysfunctional families, but what they find in each other is love. They're realistic and know that young love never lasts, but they are crazy enough to give it a try. This book is funny and heart breaking, like a 1986 Romeo and Juliet. I can't express how much I loved this book, it's already one of my favorite books of 2013."
— From
Ta'Necia's Picks!
Spring '13 Kids List
---
"Eleanor doesn't have much going for her. Life with her mom and stepdad is minute-to-minute scary and the kids at her new school have singled her out for torment. Somehow into this reality comes Park, who is just trying to keep his head down and not make waves at home or school. These two misfits fall in love to a 1980s soundtrack. With humor and unflinching candor, Rowell propels readers through a story of first love and the courage it takes to keep going when all the odds are against you."
— Julie Wilson, The Bookworm, Omaha, NE
Description
---
#1 New York Times Best Seller!
"Eleanor & Park reminded me not just what it's like to be young and in love with a girl, but also what it's like to be young and in love with a book."-John Green, The New York Times Book Review
Bono met his wife in high school, Park says.
So did Jerry Lee Lewis, Eleanor answers.
I'm not kidding, he says.
You should be, she says, we're 16.
What about Romeo and Juliet?
Shallow, confused, then dead.
I love you, Park says.
Wherefore art thou, Eleanor answers.
I'm not kidding, he says.
You should be.
Set over the course of one school year in 1986, this is the story of two star-crossed misfits-smart enough to know that first love almost never lasts, but brave and desperate enough to try. When Eleanor meets Park, you'll remember your own first love-and just how hard it pulled you under.
A New York Times Best Seller!
A 2014 Michael L. Printz Honor Book for Excellence in Young Adult Literature
Eleanor & Park is the winner of the 2013 Boston Globe Horn Book Award for Best Fiction Book.
A Publishers Weekly Best Children's Book of 2013
A New York Times Book Review Notable Children's Book of 2013
A Kirkus Reviews Best Teen Book of 2013
An NPR Best Book of 2013
About the Author
---
RAINBOW ROWELL writes books. Sometimes she writes about adults (Attachments and Landline). Sometimes she writes about teenagers (Eleanor & Park, Fangirl and Carry On). But she always writes about people who talk a lot. And people who feel like they're screwing up. And people who fall in love.
When she's not writing, Rainbow is reading comic books, planning Disney World trips and arguing about things that don't really matter in the big scheme of things.
She lives in Nebraska with her husband and two sons.
Praise For…
---
"Funny, hopeful, foulmouthed, sexy, and tear-jerking, this winning romance will captivate teen and adult readers alike." —Kirkus Reviews (starred review)
"Rowell keeps things surprising, and the solution maintains the novel's delicate balance of light and dark." —Publishers Weekly (starred review)
"The pure, fear-laced, yet steadily maturing relationship Eleanor and Park develop is urgent and breathtaking and, of course, heartbreaking, too." —Booklist (starred review)
"An honest, heart-wrenching portrayal of imperfect but unforgettable love." —The Horn Book (winner of The Horn Book Award for fiction)
"Rowell's humor, tenderness, and sense of detail are extraordinary." —Curtis Sittenfeld for The New Yorker
"Eleanor & Park is a breathless, achingly good read about love and outsiders." —Stephanie Perkins, New York Times bestselling author of Anna and the French Kiss and Lola and the Boy Next Door
"Sweet, gritty, and affecting . . . Rainbow Rowell has written an unforgettable story about two misfits in love. This debut will find its way into your heart and stay there." —Courtney Summers, author of This Is Not a Test and Cracked Up to Be
"In her rare and surprising exploration of young misfit love, Rowell shows us the beauty in the broken." —Stewart Lewis, author of You Have Seven Messages
"Eleanor & Park reminded me not just what it's like to be young and in love with a girl, but also what it's like to be young and in love with a book." —John Green, The New York Times Book Review
"Rowell's writing swings from profane to profound, but it's always real and always raw." —Petra Mayer for NPR Books