Golf Etiquette (Paperback)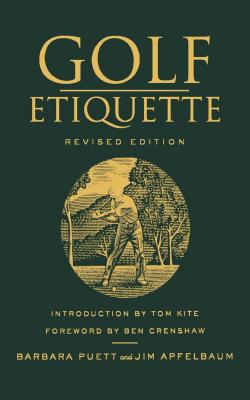 $19.99
Out of Stock; Usually Arrives in 2-5 Days
Description
---
A revised, more focused edition of the essential golf etiquette handbook.
Tiger Wood's popularity has introduced golf to thousands. Very few, however know proper golf etiquette--which is essential to enjoying the game. The revised edition of the classic book is vital for amateur and experienced players in addressing golf's number one problem: slow play. The book Paul Harvey lauded as "The first and last word on how properly to behave on and off the golf course" covers:
*Proper attire
*Playing through
*Playing with Strangers
*And much more
All the latest advances are taken into account: satellite-based yardage systems, alternative spikes, and cell phones. Its handy size and useful photos and daigram make Golf Etiquette the perfect guide for on-the-fly tips and rules.
About the Author
---
Barbara Puett runs her own golf school at Riverplace Country Club in Austin, Texas. She is the director of instruction for Empowered Women Golf Schools and has co-authored A Woman's Own Golf Book with Jim Apfelbaum. She lives in Austin, Texas
Jim Apfelbaum is a two-time recipient of the South Texas PGA's annual media/PR award. Host of a long-running weekly golf radio show, Jim is president of the Texas Golf Writers' Association.
Praise For…
---
"If every golfer read this book, it would make the golf professional's job that much easier." —Harvey Penick, author of Harvey Penick's Little Red Book
"This book is long overdue. Must reading." —Tom Kite
"Golf Etiquette should be on every golfer's bookshelf." —Ben Crenshaw
"The first and last word on how properly to behave on and off the golf course." —Paul Harvey
"In the past I've been known to play 36 and 54 holes a day, and know the meaning of pace of play. This book teaches golfers how to do it: when to walk, when to talk, and how to keep up, how to be a more enjoyable partner. Slow play wouldn't be the problem it's become if everyone read this book." —Darrell Royal, Member of the National Football Hall of Fame coached the University of Texas Longhorns to 11 Southwest Conference championships, three national titles and 16 bowl appearances