The Poor Boy's Game (Hardcover)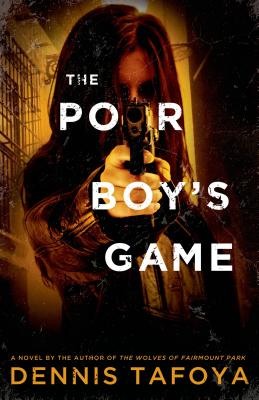 Staff Reviews
---
"I've been a fan of this guy since his debut, Dope Thief. He's a criminally underrated author. THE POOR BOY'S GAME should be the book that gets him noticed. It's down and dirty and still has a lot of heart. Reminiscent of crime films from the 1970s."
— Scott M.
Description
---
When US Marshal Frannie Mullen gets one of her best friends shot during a routine apprehension, her career is over. Still reeling from the loss, Frannie is trying to sort out her feelings for Wyatt, the reformed outlaw who loves her, and to support her newly-sober sister, Mae, as she struggles with the fallout of their unstable, violent childhood.
Their father Patrick Mullen is a thug, a vicious enforcer for a corrupt Philadelphia union, and when he escapes from prison, bodies of ex-rivals and witnesses begin piling up. Now Frannie is suspected as an accomplice in his escape and targeted by shadowy killers from the Philadelphia underworld. Unsure who to trust, drawing on the skills she's learned as a Marshal and her training as a boxer, Frannie is forced to fight to protect her shattered sister and Patrick's pregnant girlfriend from the most dangerous criminal she's ever faced her own father.
"The Poor Boy's Game" is the most propulsive, riveting novel yet from crime fiction master Dennis Tafoya.
About the Author
---
DENNIS TAFOYA was born in Philadelphia and now lives in Bucks County, Pennsylvania. Poor Boy's Game is his third novel, following Dope Thief and The Wolves of Fairmount Park.
Praise For…
---
"At the center of Dennis Tafoya's powerful and poignant novel beats the mighty heart of his richly etched heroine, U.S. Marshal Frannie Mullen. With The Poor Boy's Game, Tafoya shows us he ranks with George Pelecanos and Dennis Lehane, illuminating the grimmest corners of his city, and telling tales filled with both darkness and immense beauty."—Megan Abbott, Edgar Award-winning author of Dare Me

"The Poor Boy's Game is a beautifully rendered, gut-wrenching portrait of lives wrecked by crime and circumstance. Tafoya's prose is so close to the street that it seems to be written not from the outside looking in, but from within the wounds and fractures themselves."—Reed Farrel Coleman, Edgar Award-nominated author of The Hollow Girl

"A bruising heartbreaker of a novel, with a heroine you won't soon forget. Tafoya knows his territory and, more importantly, he knows his people. The Poor Boy's Game is a knockout."—Wallace Stroby, author of Shoot the Woman First

"Dennis Tafoya pulls no punches. His characters carry fractured hearts and wounds that won't heal—none more so than U.S. Marshal Frannie Mullen—but even their darkest hours are rendered with a grace that makes them all the more hauntingly human. The Poor Boy's Game is a triumph."—Hilary Davidson, Anthony Award-winning author of Evil in All Its Disguises

"Tafoya delivers a gut-wrenching crime thriller as gritty and harsh as a Philadelphia winter."—Publishers Weekly (starred review)

"Tafoya continues to explore the fine line between good and evil…[The Poor Boy's Game] features complex characters and a truly shocking ending."—Kirkus