Books On Our Site May Not Be Available In-Store
Is This Book In Stock? Be Savvy! Check availability details beneath the blue "Add to Cart" button.
Irritable Hearts: A PTSD Love Story (Hardcover)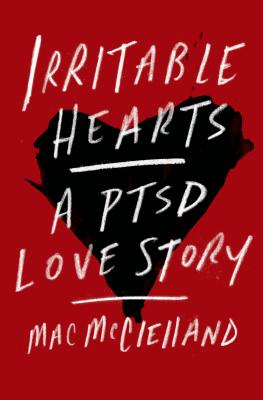 Description
---
"Irritable Hearts striking candor will win McClelland the empathy she deserves." - The New York Times Book Review
A Buzzfeed Best Nonfiction Book of 2015

"I had nightmares, flashbacks. I dissociated... Changes in self-perception and hallucinations-those are some of my other symptoms. You are poison, I chanted silently to myself. And your poison is contagious."
So begins Mac McClelland's powerful, unforgettable memoir, Irritable Hearts.
When thirty-year-old, award-winning human rights journalist Mac McClelland left Haiti after reporting on the devastating earthquake of 2010, she never imagined how the assignment would irrevocably affect her own life. Back home in California, McClelland cannot stop reliving vivid scenes of violence. She is plagued by waking terrors, violent fantasies, and crippling emotional breakdowns. She can't sleep or stop crying. Her life in shambles, it becomes clear that she is suffering from Post-Traumatic Stress Disorder. Her bewilderment about this sudden loss of control is magnified by the intensity of her feelings for Nico, a French soldier she met in Port-au-Prince and with whom she connected instantly and deeply.
With inspiring fearlessness, McClelland tackles perhaps her most harrowing assignment to date: investigating the damage in her own mind and repairing her broken psyche. She begins to probe the depths of her illness, exploring our culture's history with PTSD, delving into the latest research by the country's top scientists and therapists, and spending time with veterans and their families. McClelland discovers she is far from alone: while we frequently associate PTSD with wartime combat, it is more often caused by other manner of trauma and can even be contagious-close proximity to those afflicted can trigger its symptoms. As she confronts the realities of her diagnosis, she opens up to the love that seems to have found her at an inopportune moment.
Irritable Hearts is a searing, personal medical mystery that unfolds at a breakneck pace. But it is also a romance. McClelland fights desperately to repair her heart so that she can give it to the kind, patient, and compassionate man with whom she wants to share a life. Vivid, suspenseful, tender, and intimate, Irritable Hearts is a remarkable exploration of vulnerability and resilience, control and acceptance. It is a riveting and hopeful story of survival, strength, and love.
About the Author
---
Mac McClelland is the author of For Us Surrender Is Out of the Question. She has written for Reuters, Rolling Stone, Mother Jones, the New York Times Magazine, and the New York Times Book Review, among other publications, and won awards from the Society of Professional Journalists, the Sidney Hillman Foundation, the Online News Association, the Society of Environmental Journalist, and the Association for Women in Communications. Her work has also been nominated for two National Magazine Awards for Feature Writing and has been anthologized in the Best American Magazine Writing 2011, Best American Nonrequired Reading 2011, and Best Business Writing 2013.
Praise For…
---
Mac Mc Clelland has reported from crisis zones like Myanmar and the Democratic Republic of Congo, but in her memoir Irritable Hearts she chronicles a crises she can't leave behind. McClelland learned she had post-traumatic stress disorder only hours after her return from Haiti, where she covered the aftereffects of the devastating January 2010 earthquake. She quickly came to understand the true cost of working in a zone of catastrophic hardship--even those who are not directly affected are damaged...In search of answers, McClelland executed an inward dive into her own history....In the process she draws a valuable portrait of what it is like to live with PTSD...When McClelland brings the subjects of her interviews into the frame of her book, it is then that Irritable Hearts reveals its own warm, beating heart... Irritable Hearts striking candor will win McClelland the empathy she deserves.

-Sonia Faliero


That we are as strong as we are frail is the most profound of many truths rising out of Mac McClelland's astonishing Irritable Hearts. In her unforgettable memoir, McClelland begins to unravel her experience with PTSD while falling in love, traversing the globe and trying to understand both how the mind breaks and what it takes to heal in a world where all too often, we are constantly faced with how terribly vulnerable we are.

-Roxane Gay, New York Times bestselling author of AN UNTAMED STATE and BAD FEMINIST


McClelland's deft, emotionally engaged memoir of her recovery from post-traumatic stress disorder and her marriage to a man she met while reporting in Haiti is worth the wait...A vivid writer, building her trip to Haiti in sharp detail. And when she begins to fall apart afterward, her jagged emotions are genuinely harrowing to experience. As much as the love story at the heart of the book is a great romance, it's also a very funny one. McClelland is not the sort of person who needs to idealize either herself or the man who became her husband. It's a grown-up relationship story. And as a bonus, "Irritable Hearts" has a section on trauma and triggers that adds useful context to many of our present debates about discourse on the Internet.

-Alyssa Rosenberg


Irritable Hearts is a powerful memoir about a young journalist's painful battle with PTSD and her arduous road to recovery. But it is also a passionate and beautifully rendered love story. The way McClelland weaves together these two disparate tales makes this book a brilliant and captivating read.

-Mira Bartok, author of the New York Times bestseller THE MEMORY PALACE


There's an easy way to ignore PSTD, and we've all heard it: you'll never understand anyway. Well, Mac McClelland never takes the easy way out. Instead she writes with grace and wit, relating her extraordinary life experiences so eloquently that you can't not understand her affliction. This is an important and brave book about an epidemic that everyone should read.

-—Katie Crouch, bestselling author of GIRLS IN TRUCKS and ABROAD


Mac McClelland is a ferociously talented journalist--and an exceptionally brave one--whose reporting from disaster areas and war zones have left her with Post-Traumatic Stress Disorder. A work of astonishing emotional intensity, fierce intelligence, and soul-baring honesty, Irritable Hearts chronicles McClelland's searing battle with PTSD, evoking the symptoms of her disorder--the dissociation, the alternating rage and sadness and numbness, the urge toward self-harm and suicide--with immediacy and remarkable candor (most notably about the sexual fantasies and dysfunctions her PTSD causes). At once a memoir, a cockeyed romance, a reporter's travelogue, and a clinical case study, Irritable Hearts will provide great consolation to others who suffer from PTSD- and McClelland's resilience and determination will resonate powerfully even with those who don't.

-—Scott Stossel, author of the New York Times bestselling MY AGE OF ANXIETY: Fear, Hope, Dread, and the Search for Peace of Mind


McClelland's story asked me to think more deeply about the tragedy of noncombatants in all the world's harsh places and about the future of our own soldiers, who are still so poorly served after they return home. Which is worse: the physical loss of a limb, or the collapse of the essential mental comfort that allows a person to value being alive? A broken body can heal only when the mind has found some peace. So I hope that Irritable Hearts will draw attention to PTSD in all its forms and wherever it occurs, and that McClelland will continue poking into those dark places from which the rest of us too easily recoil and turn away.



In her second book..McClelland returns to terrain she has covered before to great acclaim and great criticism: herself-specifically, her battle with PTSD following a reporting trip to post-earthquake Haiti in 2010. She unsparingly recounts her struggles to cope with the lingering effects of trauma: nightmares, sobbing fits, alcoholism. McClelland weaves these details into the telling of her own unexpected love story, the charming and jagged particulars of which left me, by the book's end, unexpectedly exhausted.

-Ian Gordon


Tragedy, fear, alarm, is contagious; it is just as dangerous to magnify your sadness and weakness in public as it is to attempt to deal with it alone. [McClelland's] book is a unique read in its honesty and breadth of scope on this subject, and it goes down fast and difficult, like a shot of liquor.

-Jezebel.com


In her new memoir, "Irritable Hearts: A PTSD Love Story," McClelland pulls back a dark, heavy curtain on the costs paid by those who travel to the far corners of the planet to gather difficult news on difficult subjects... Writing like this takes courage, perhaps as much - or even more - than reporting from a war-ravaged land..."Irritable Hearts" will help open a few more eyes and maybe save a few more minds from similar devastation.

-The San Francisco Chronicle