The Scarlet Gospels (Hardcover)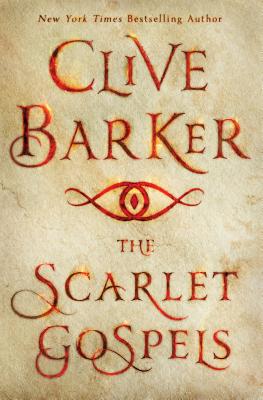 $26.99
Out of Stock; Usually Arrives in 2-5 Days
Staff Reviews
---
"As a master horror writer Barker has illuminated the nightmares that haunt the darker reaches of the psyche and now he returns for the first time in years to that genre with a story that includes two iconic characters from his blackest stories: the detective Harry D'Amour and the demon Pinhead. While no stranger to the world of magic and demons, D'Amour has to confront a power unlike any he has experienced, and when a close friend is taken to Hell, he has no choice but to gather his colleagues, all with their own special skills, and follow the demon trail into the Pit. Pinhead is the epitome of pain - the beautiful suffering that makes him a Priest of Hell; pride and ambition suffuses his being making him a unique creature, one who is ready to bring about a great change, for there is a war brewing in Hell, a conflict thousands of years in the making, that will overthrow everything one knows of the Infernal Regions."
— Raul
Description
---
The New York Times bestseller from Clive Barker, who brings his extraordinary universes of Hellraiser and Lord of Illusions together in a masterpiece of dark fantastic horror.

The Scarlet Gospels takes readers back many years to the early days of two of Barker's most iconic characters in a battle of good and evil as old as time: The long-beleaguered detective Harry D'Amour, investigator of all supernatural, magical, and malevolent crimes faces off against his formidable, and intensely evil rival, Pinhead, the priest of hell.
Barker devotees have been waiting for The Scarlet Gospels with bated breath for years, and it's everything they've begged for and more. Bloody, terrifying, and brilliantly complex, fans and newcomers alike will not be disappointed by the epic, visionary tale that is The Scarlet Gospels. Barker's horror will make your worst nightmares seem like bedtime stories. The Gospels are coming. Are you ready?
Readers can get more Pinhead from the direct to video Hellraiser: Judgment movie coming February 2018.
About the Author
---
Clive Barker is the best-selling author of more than twenty novels and collections of short stories that range from horror to fantasy. He has had much success in film, directing Hellraiser and Nightbreed.
Praise For…
---
"I think Clive Barker is so good that I am literally tongue-tied. He makes the rest of us look like we've been asleep for the past ten years." —Stephen King
"A powerful and fascinating writer with a brilliant imagination… an outstanding storyteller" —JG Ballard
"To call Clive Barker a 'horror novelist' would be like calling the Beatles a 'garage band'… He is the great imaginer of our time. He knows not only our greatest fears, but also what delights us, what turns us on, and what is truly holy in the world. Haunting, bizarre, beautiful." —Quentin Tarantino