Every Anxious Wave: A Novel (Hardcover)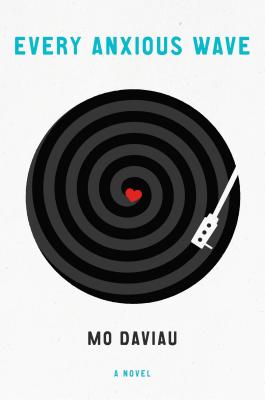 Staff Reviews
---
"This is a totally fun, page-turning romp through indie rock and the implications of time travel. Perfect for fans of Chuck Klosterman, High Fidelity, and anyone who has a nostalgic heart for musicians like Elliot Smith. In a world where wormholes appear in closets and time travel is as easy as texting, the endearing characters in Daviau's story present very real points to ponder: if you could go back and change your whole life, where would start, and would you do it? I enjoyed every minute of this book. Highly recommended for music lovers, romantics and anyone who enjoys a good, engaging read."
— Julie W.
"Every Anxious Wave is equal parts fun thrill ride and emotional character study. When Karl Bender discovers a wormhole in his bar, he uses it to transport himself and others to legendary concerts of the past. But when his best friend ends up stuck in a different century, his life is forever altered when he recruits physicist Lena Geduldig to help him. Daviau understands how much music affects our memory, and how our past in turn affects our ability to connect with people. The novel is a strong, empathetic exploration of love and friendship, with a dose of time travel to really make the reader reflect."
— Consuelo
I thoroughly enjoyed this book! The characters were complex and flawed, and the time travel element was used to great effect to show how a single event, or a series of events, can shape the identity of a person. The themes of love and loneliness really hit me. It's a great debut novel and I'll be recommending it to a lot of people!
— Sarah H.
Description
---
Good guy Karl Bender is a thirty-something bar owner whose life lacks love and meaning. When he stumbles upon a time-travelling worm hole in his closet, Karl and his best friend Wayne develop a side business selling access to people who want to travel back in time to listen to their favorite bands. It's a pretty ingenious plan, until Karl, intending to send Wayne to 1980, transports him back to 980 instead. Though Wayne sends texts extolling the quality of life in tenth century "Mannahatta," Karl is distraught that he can't bring his friend back.
Enter brilliant, prickly, overweight astrophysicist, Lena Geduldig. Karl and Lena's connection is immediate. While they work on getting Wayne back, Karl and Lena fall in love -- with time travel, and each other. Unable to resist meddling with the past, Karl and Lena bounce around time. When Lena ultimately prevents her own long-ago rape, she alters the course of her life and threatens her future with Karl.
A high-spirited and engaging novel, Mo Daviau's EVERY ANXIOUS WAVE plays ball with the big questions of where we would go and who we would become if we could rewrite our pasts, as well as how to hold on to love across time.
About the Author
---
MO DAVIAU was born in Fresno, California and proclaimed her life goal of publishing a novel at the age of eight. A former librarian and independent bookseller, Mo is also a solo performer, having performed at storytelling shows such as Bedpost Confessions and The Soundtrack Series. She is a graduate of Smith College and the Helen Zell Writers' Program at the University of Michigan where Every Anxious Wave won a Hopwood Award. Mo lives in Portland, Oregon. Every Anxious Wave is her first novel.
Praise For…
---
"Every Anxious Wave gives us the intelligent irreverence of Nick Hornby, the honest romance of Gary Shteyngart, and the swoon-worthy charm of a John Cusack movie, all within a riveting story of lost love, bent time, and rock stars. A delightful, innovative debut." --Rebecca Dinerstein, author of The Sunlit Night

"A bittersweet, century-hopping odyssey of love, laced with weird science, music geekery, and heart-wrenching laughs...the deeper it goes into Karl's and Lena's erratic trajectories — past, present, and future — the more it rings with a uniqueness that transcends the tropes of time travel and indie romance...a wise, witty, whipcrack sci-fi romp about how our passions can both lift us up and hold us back." --NPR
"...a total punk rock time travel novel ... Like Vonnegut's best work, the book is whimsical and has a beating heart ... This is, at root, a novel about how we find things we weren't looking for, and that our best efforts to fix things often mess them up even more, but that it somehow turns out okay anyway." --Mashable
"An absolute kick in the pants to read--if you love rock, bodies, and time travel, this is your ride."
--Lidia Yuknavitch, author of The Small Backs of Children

"In this stunning debut, Daviau lays bare all the ways in which dreams and regret are both fueled by love. As much fun as a Melvin's concert, Every Anxious Wave is a romp." --Monica Drake, author of Clown Girl
"A punk-rock time-travel love story for the ages . . . Daviau is ferocious with her sad and flawed characters, whose pain propels the story through several iterations. Because the tale keeps changing with every visit to the future, the book doesn't end the way even its characters expect it to but is satisfying nonetheless. A dark and funny love story that, like its main characters, is much sweeter than it appears on the surface." --Kirkus
"What begins as comic turns much darker…in this melancholy, yet improbably hopeful novel." --Booklist
"Hopwood Award-winning author Daviau writes with humor and compassion, creating absorbing, sympathetic characters and enveloping serious questions about love and life-changing events in a balloon of mind-bending time travels. Readers of all types of fiction will enjoy." --Library Journal
"Think Back to the Future as imagined by, well, a former college radio DJ ... Every Anxious Wave is for all those no-longer-kids who got good grades just like [Daviau], who throw on Beat Happening and think a little too much about how great the 1990s were." --Mystatesman.com