Books On Our Site May Not Be Available In-Store
Is This Book In Stock? Be Savvy! Check availability details beneath the blue "Add to Cart" button.
Once a Crooked Man: A Novel (Hardcover)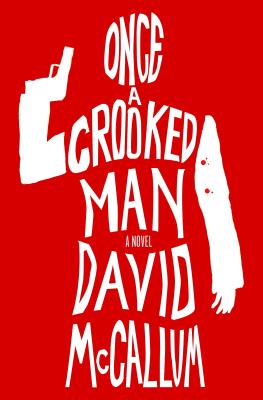 Staff Reviews
---
What a great tale of good intentions gone bad! When Harry Murphy, an life time actor and NY native, hears that a man's life is in danger, he goes to London to intervene and warn the man. What follows is a raucous and hilarious story involving retiring mobsters, dirty money, and smuggling that is thrilling and taut paced. The various roles that Harry must assume as he zigzags between saving himself and his friend Lizzie, herself a whacked out special agent, make for absorbing reading. Mcallum provides great characterization that develops into fully rounded protagonists and he has a great twist toward the end that is pleasingly surprising and unexpected. Loads of fun!
— Raul
Description
---
A deliciously quirky crime novel from David McCallum, the beloved actor known for his portrayal of Illya Kuryakin on The Man From U.N.C.L.E. and Dr. Donald "Ducky" Mallard on NCIS.
Crime pays. And pays well.
Sal, Max and Enzo Bruschetti have proved this over a lifetime of nefarious activity that they have kept hidden from law enforcement. Nowhere in any file, on any computer is there a record of anything illegal from which they have profited. But Max has a problem. His body is getting old and his doctor has told him to take it easy. Max has decided that the time has come for the family to retire.
But when young actor Harry Murphy overhears the Bruschetti brothers planning changes to their organization, including the murder of a man in London who knows too much, the Bruschetti's plans begin to unravel.
After Harry makes the well-intentioned if egregious mistake of trying to warn the Bruchetti's intended victim he finds himself alone in a foreign country, on the wrong side of the law, with a suitcase full of cash and a dangerous man on his trail. And while his good looks, charm and cheerful persistence may prove assets in the turbulent events that follow, none of Harry's past roles have prepared him for what happens next.
At turns tense and funny, Once a Crooked Man is infused with the infectious charm that has made David McCallum one of television's longest running, most-beloved stars.
About the Author
---
David McCallum is a Scottish actor and musician. He is known for his roles as Illya Kuryakin, a Russian secret agent, in the television series The Man From U.N.C.L.E. (1964-68) and for his current role as NCIS medical examiner Dr. Donald "Ducky" Mallard in the American television series NCIS.
Praise For…
---
"Highly entertaining… McCallum respects the genres' tenets, supplying the right amount of intrigue, violence and sex for a well-plotted, action-packed tale. While occasional bits of humor add levity to the plot, McCallum keeps a near hard-boiled edge to the story. It seems McCallum had a lot of fun writing 'Once a Crooked Man,' as will his readers devouring his energetic novel." —Associated Press
"It's pretty danged good…McCallum isn't writing a noirish tale of deceit, vengeance and the hard hustle. This is crime as light comedy, with a broad cast of characters…here are guns, a fetching detective and bags of money. It's a three-card monte as to who winds up where with what and whom." —Washington Post
"Darkly comedic … Hijinks ensue — including a shootout, car chases and mistaken identity. Plus, of course, a sexy British agent." —New York Post
"Mr. McCallum is great fun and it is obvious why he is so engaging in the television thriller in which he plays a forensic expert. His sense of humor would fit the work of a man who digs into dead bodies." —Washington Times
"Crackling, darkly comic…" —Parade
"The author displays his versatility in 'Once a Crooked Man' — an auspicious debut, an exercise in literate escapism and, most importantly, a bloody good read." —Richmond Times-Dispatch
"This debut novel by actor McCallum (NCIS, The Man from U.N.C.L.E.) suggests the author has spent time enjoying the crime-and-espionage farces of Donald E. Westlake and the master of the genre, Ross Thomas.... He has a farceur's taste for seeing how many complications he can bring to any situation. This good-natured debut gives the reader as good a time as it has plainly afforded its author." —Kirkus Reviews
"Adding some ambiguity to the usual formula... this quirky novel will appeal to readers who like a bit of subtext with their thrillers." —Booklist
"An entertaining mystery.... Reminiscent of darkly comedic works in which heroes spiral continuously downward, this zany tale is oddly humorous at several junctures." —Library Journal
"Once a Crooked Man is a spellbinding thriller that has tension, momentum and certainly an actor's skewed eye of the world. A very strong debut." —crimesquad.com
"Written with an enthusiastic and good natured style, one cannot but picture McCallum himself as Harry Murphy, with a tip of the hat to the caper novels and films of the past.... The writing style makes one query why McCallum hadn't penned a crime novel before, for like The Man from U.N.C.L.E character Ilya Kuryakin, he is as resourceful as a writer, as he is an actor." —Shots (UK)