Startup Your Life: Hustle and Hack Your Way to Happiness (Hardcover)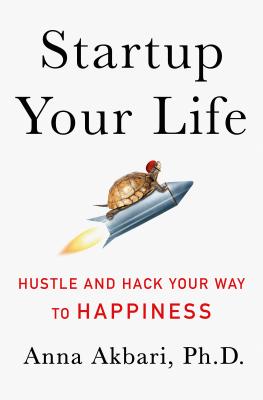 $25.99
It's complicated, and may be unavailable. Place an order and we will contact you with the expected arrival date.
Description
---
A young entrepreneur and sociologist shows readers how to reach personal fulfillment using the same strategies that power Silicon Valley's greatest startups.
As an entrepreneur, Anna Akbari learned that one of the best things about startups is their ability to "pivot" quickly—basically a euphemism for failing and starting over. And she quickly found that personal success is no different. It's not just about developing and following the right process but also having a good idea. And that demands rigor and daily maintenance—far beyond a few positive affirmations. Like any Silicon Valley startup, the business of life is not as glamorous as its Instagram account would make it seem.
What do you do when planning is not an option? When control is out of your reach? You isolate the small stuff, experiment constantly, and use the results to lay a more sustainable foundation for the future. You validate your idealized vision by testing it out in bite-sized increments. You see what sticks, integrate, and move forward. And inevitably, you experience a series of failures along the way, but those failures are key to your next success.
Living a start up life is about maximizing flexibility and measuring on-going results, not avoiding failure or reaching one particular end goal. It's about embracing defeat, analyzing it, and failing up. In Startup Your Life, Akbari shows that after all, it's often the stumbles that pave the way for real happiness.
About the Author
---
ANNA AKBARI is a sociologist, writer, and teacher. She holds a PhD in sociology and has taught at both NYU and Parsons. She regularly writes for The Atlantic, CNN, The Financial Times, New York Observer, DailyWorth, Stylecaster, Above The Law, and The Huffington Post. She is the author of Startup Your Life.
Praise For…
---
"Budding entrepreneurs should benefit greatly from Akbari's advice."—Publisher's Weekly

"Akbari has created self-help for the millennials" —Booklist

"You can be the startup CEO of your own life, and Anna Akbari teaches you how in this indispensable guide. Her personal tales and time-tested advice inspire and motivate -- it's the extra push you need for living your best life." —Alexa von Tobel, founder and CEO of LearnVest and New York Times bestselling author of Financially Fearless

"Anna Akbari gets right down to business to help you hack your life using the same strategies I used to create products as a CTO in Silicon Valley. It's the opposite of personal development platitudes, and it works because you can measure it. These are real tools you can use to biohack your performance."—Dave Asprey, New York Times Bestselling Author, The Bulletproof Diet

"Anna Akbari understands that hustling and scrappiness are not just for entrepreneurs; they're also key ingredients in a flourishing life. Startup Your Life proves that happiness is on offer to everyone — regardless of pedigree — and teaches you how to achieve it." — Catherine Hoke, Founder & CEO of Defy Ventures

"As a client of Anna's, I am ecstatic that her brilliant strategies for happiness are written down for all to share, and most of all, for me to reference and carry with me everywhere! Anna has created a fascinating guide, applying the paradigm shifting, tried and true organizing principles of Silicon Valley Start-Ups to well-being. As one of the lucky few who has had the chance to work with Anna one-on-one, I can say with total sincerity that her insights will guide you through the ebb and flow of life's failures and successes, time and time again."—Bryce Dallas Howard, Actress

"If you're looking for a reset -- professional or personal -- Anna Akbari is the guru for you. Embracing the revise-as-you-go ethos of the tech world, she'll help you find the right fit, even if it means a misfire or two first. Even better, you'll enjoy the ride."—Amanda Steinberg, founder of DailyWorth

"Finally, a book that shows how to make that Silicon Valley magic work – outside of work. Anna Akbari is the perfect guide through our sometimes dizzying present, where the paths to health, wealth, and happiness no longer run straight, and improvisation and iteration rule the day."—Fran Hauser, Angel Investor and Former President, Digital at Time Inc.

"For those who want more than fluff, this no-nonsense approach to happiness enlightens as much as it entertains. Startup Your Life is a craftily delivered kick in the pants many people need to make real, sustainable change in their lives."—Mandy Stadtmiller, columnist, New York Magazine

"Living your life like a startup—what a refreshing approach to upgrading how you live, love, and work. An entrepreneurial mindset is such an asset; it's great to finally see a fun, practical guide that applies this way of operating to everyone." —John Lee Dumas, founder and host of Entrepreneur On Fire

"In a world that seems to demand constant reinvention, it can be hard to keep up. Luckily, Startup Your Life reminds us that everyone is a work in progress--and that there are many paths to a great finished product."—Soraya Darabi, co-founder of Zady

"Brilliantly inspiring and fun yet intellectually stimulating, "Startup Your Life" is a modern-day manual for how to follow your heart, and check with your brains. Many young entrepreneurs will relate to this book and love the end of chapter "scrum cheat sheet", for practical tips on how to treat your life as a continuous set of experiments, iterate on demand and know when to exit. Anna teaches us that there is more power in knowing what you don't want than merely knowing what you want" --Cheryl Yeoh, Silicon Valley Entrepreneur

"Most of us understand that strategy and emotional intelligence are proven paths to professional success, while leaving our personal lives to chance. Startup Your Life gives you the tools to find personal happiness with the same savvy that Silicon Valley entrepreneurs use to grow billion-dollar enterprises. Regardless of where or who you are, this book's tools will transform you."—Emma Johnson, founder of WealthySingleMommy

"Everyone knows that there is no manual that shows you how to live a brave and abundant life. However, Anna Akbari's thoughtful and accessible take on how to create personal fulfillment and what it means to be a leader—both professionally and personally—can help to set you on the right path. Based on her personal experience, she writes with a voice that is authentic and vulnerable, making this a guide for living a fuller life and offering some insight for all."—Cassandra Kelly, Chair of Pottinger

"Startup Your Life is not your typical self-help book. Anna Akbari approaches happiness and self-improvement with well-earned entrepreneurial savvy. She's your professional mentor and life coach all rolled into one, and her action-oriented advice is instantly empowering."—Michael Radparvar, co-founder of Holstee