The Outcast: Prequel to the Summoner Trilogy (Hardcover)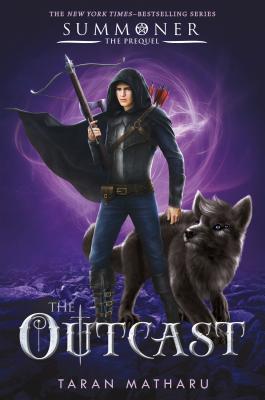 $18.99
Out of Stock; Usually Arrives in 2-5 Days
Description
---
The thrilling prequel to the New York Times–bestselling Summoner series!
When stable boy Arcturus accidentally summons a demon and becomes Hominum's first common summoner, he becomes the key to a secret that the powerful overlords would do anything to keep hidden.
Whisked away to Vocans Academy so he can be kept watch over, Arcturus finds himself surrounded by enemies. But he has little time to settle in before his life is turned upside down once again, for Hominum Empire is in turmoil.
Rebellious intent simmers among the masses, and it will not be long before it boils over. Arcturus must choose a side . . . or watch an Empire crumble.
The Summoner Trilogy
The Novice
The Inquisition
The Battlemage
Also in the Summoner series
The Outcast (Summoner: The Prequel)
The Summoner's Handbook (Fall 2018)
A Fine Welcome: Othello's Journey (A Summoner Short Story)
About the Author
---
Taran Matharu wrote his first book when he was nine years old. At twenty-two, he began posting The Novice on Wattpad (the online writing website) and reached over three million reads in less than six months. The Novice is the first book in the New York Times-bestselling Summoner series, which includes three books and a prequel, as well as the companion The Summoner's Handbook. Taran lives in London.
Praise For…
---
Praise for THE OUTCAST:

"Shines as a fantasy adventure. The book's quick pacing and intriguing summoning system encourages readers to keep turning pages."--School Library Journal


Praise for the NEW YORK TIMES-bestselling Summoner series:
THE NOVICE (Book 1 in the Summoner series):
A New York Times Bestseller
"The appealing characters, fast-paced plot, focus on racial politics, and interesting demon varieties (demonology addendum included) make this an enjoyable read." —School Library Journal
"Fantasy readers should enjoy this entertaining, comfortably familiar-feeling adventure featuring an earnest soldier-schoolboy and his demonic sidekick." — Kirkus Reviews
"This plot-focused fantasy adventure will be a satisfying read for a wide age range of readers, especially fans of role-playing games and Christopher Paolini." —VOYA
"Taran Matharu . . . racked up more than a million reads for his first novel, 'Summoner,' in only four months." —NBCnews.com
THE INQUISITION (Book 2 in the Summoner series):
A New York Times Bestseller

A Publishers Weekly Bestseller
"A fast-paced, familiar tale with strong echoes of Tolkien, Pullman, and Pokémon." —Kirkus Reviews

THE BATTLEMAGE (Book 3 in the Summoner series):

A USA Today Bestseller

A New York Times Bestseller