A Midsummer's Equation: A Detective Galileo Mystery (Detective Galileo Series #3) (Paperback)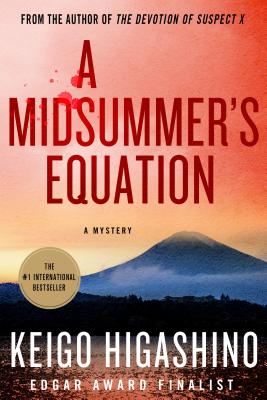 $17.99
Out of Stock; Usually Arrives in 2-5 Days
Other Books in Series
This is book number 3 in the Detective Galileo Series series.
Staff Reviews
---
Higashino is the absolute master of the intellectual thriller and this book only highlights his strengths as a storyteller who can lay out so many possibilities for a reader to follow only to come out of left field with a solution that makes total sense and leaves you flabbergasted in the inherent beauty of his solution. When a visitor to a small inn on the coast of Japan is found at the bottom of a cliff, suicide is the obvious conclusion, but when the cause of death is found to not be the fall, an intriguing line of inquiry develops. The victim turns out to be a retired Tokyo homicide detective - was his stay at the inn a mere coincidence or is there a secret link to the family who runs the inn? Manabu Yukawa, a physicist from the Imperial University and Detective Galileo to his police friends, works to uncover the clues that lead to a solution involving things unknown.
— Raul
Description
---
Manabu Yukawa, the physicist known as "Detective Galileo," has traveled to Hari Cove, a once-popular summer resort town that has fallen on hard times. He is there to speak at a conference on a planned underwater mining operation, which has sharply divided the town. One faction is against the proposed operation, concerned about the environmental impact on the area, known for its pristine waters. The other faction, seeing no future in the town as it is, believes its only hope lies in the development project.
The night after the tense panel discussion, one of the resort's guests is found dead on the seashore at the base of the local cliffs. The local police at first believe it was a simple accident-that he wandered over the edge while walking on unfamiliar territory in the middle of the night. But when they discover that the victim was a former policeman and that the cause of death was carbon monoxide poisoning, they begin to suspect he was murdered, and his body tossed off the cliff to misdirect the police.
As the police try to uncover where Tsukahara was killed and why, Yukawa finds himself enmeshed in yet another confounding case of murder. In a series of twists as complex and surprising as any in Higashino's brilliant, critically acclaimed work, Galileo uncovers the hidden relationship behind the tragic events that led to this murder.
About the Author
---
Born in Osaka and currently living in Tokyo, Keigo Higashino is one of the most widely known and bestselling novelists in Japan. He is the winner of the Edogawa Rampo Prize (for best mystery), the Mystery Writers of Japan, Inc. Prize (for best mystery) among others. His novels are translated widely throughout Asia.
Praise For…
---
"Think of the artfully precise, psychologically charged films of Henri-Georges Clouzot and Alfred Hitchcock, and you're close to what Higashino achieves in Salvation of a Saint. It's the sort of book you'll want to finish in a single night." —Richmond Times-Dispatch
"To dispute a common complaint: They are indeed writing confounding puzzle mysteries the way they used to. They just happen to be writing them in Japanese. And by "they," I mean Keigo Higashino, whose elegant whodunits... are feats of classic ratiocination." —New York Times Book Review
"One of the most clever endings I've read in some time.... The nexus of reason and emotion is why The Devotion of Suspect X's denouement packs such a potent punch." —The Los Angeles Times