Books On Our Site May Not Be Available In-Store
Is This Book In Stock? Be Savvy! Check availability details beneath the blue "Add to Cart" button.
Dactyl Hill Squad (Hardcover)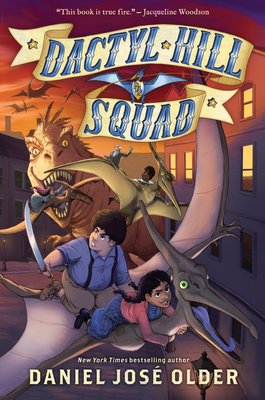 Fall 2018 Kids Indie Next List
---
"This book walks the awesome tightrope of acknowledging that fantasy could not possibly create villains more horrifying than the true figures of history, while allowing kids to engage with the fantastic that makes those realities bearable. This book lets kids who rarely see themselves as the heroes of historical fiction to see themselves there, and shows them pieces of history that may have been left out of their history lessons. At the same time, it's a great adventure with a dynamic team at its core, who are a joy to meet and adventure with. And also? DINOSAURS!"
— Katherine Fergason, Harvard Book Store, Cambridge, MA
Description
---
A New York Times Notable Book!

"This book is true fire. It is everything I didn't even know I needed." -- Jacqueline Woodson

"This is the story that would've made me fall in love with reading when I was a kid." -- Tomi Adeyemi

It's 1863 and dinosaurs roam the streets of New York as the Civil War rages between raptor-mounted armies down South. Magdalys Roca and her friends from the Colored Orphan Asylum are on a field trip when the Draft Riots break out, and a number of their fellow orphans are kidnapped by an evil magistrate, Richard Riker.

Magdalys and her friends flee to Brooklyn and settle in the Dactyl Hill neighborhood, where black and brown New Yorkers have set up an independent community--a safe haven from the threats of Manhattan. Together with the Vigilance Committee, they train to fly on dactylback, discover new friends and amazing dinosaurs, and plot to take down Riker. Can Magdalys and the squad rescue the rest of their friends before it's too late?
About the Author
---
Daniel José Older has always loved monsters, whether historical, prehistorical, or imaginary. His debut series for young adults, the Shadowshaper Cypher, has earned starred reviews, the International Latino Book Award, and New York Times Notable Book and NPR Best Books of the Year picks, among other accolades. He has worked as a bike messenger, a waiter, a teacher, and was a New York City paramedic for ten years. Daniel splits his time between Brooklyn and New Orleans.
Praise For…
---
Awards and Praise for Dactyl Hill Squad:

A New York Times Notable Book
NPR Best Books of the Year
School Library Journal Best Books of the Year
New York Public Library Best Books of the Year
Washington Post Best Books of the Year
Publishers Weekly Best Books of the Year

"Older fascinatingly blends thunder-lizard thrills with lesser-known but important aspects of American history.... Readers will adore Magdalys Roca.... Far from a natural hero, Magdalys displays a realistic mix of terror and gumption in the face of the monsters around her, reptilian and human. Where else will her adventures carry her? There's another installment of this mind-bendingly original series coming, sure to be eagerly awaited." - The New York Times Book Review

* "Epic....This high-energy title is perfect for middle graders, with its strong female protagonist, a fresh perspective on history, helpful notes and resources, and an honest portrayal of the complex topics of race and gender." -- School Library Journal, starred review

* "Delightful historical fantasy.... Rooted in real events and attitudes, and appended with facts about the time, this fast-paced adventure makes for a memorable tale in which numerous characters of color take the lead." -- Publishers Weekly, starred review

"Dactyl Hill Squad has everything a reader could possibly want in a middle-grade book: action, adventure, magic, humor and dinosaurs. Magdalys is the same kind of young, engaging and flawed protagonist as Philip Pullman's Lyra--a character readers can't help but love even when (especially because) she's frustrating. An entertaining and wholly fulfilling series opener."-- Shelf Awareness

"Daniel has imagined the unimaginable and in doing so sends readers on a dino thrill ride. I have been talking about this book nonstop! The kids, the dinosaurs, the Civil War, this book is true fire. It is everything I didn't even know I needed." -- Jacqueline Woodson, National Ambassador for Young People's Literature

"An extraordinary adventure full of heart and imagination that adults will enjoy reading just as much as kids! This is the story that would've made me fall in love with reading when I was a kid." -- Tomi Adeyemi, #1 New York Times bestselling author of Children of Blood and Bone

"In this Tyrexcellent historical realignment - fast paced, but deceptively packed with amazing detail - Older's uprising of sheroes and heroes grips, stomps, and soars from start to finish." -- Rita Williams-Garcia, New York Times bestselling author of One Crazy Summer

"Dactyl Hill Squad is an engaging, lively adventure with a heroine I wish I were, in a world I didn't want to leave." -- Jesmyn Ward, two-time National Book Award-winning author of Sing, Unburied, Sing

"This incredible story brings history to life with power, honesty, and fun." -- Laurie Halse Anderson, New York Times bestselling author of Chains

"A crackling fantasy adventure full of thrilling scenes." -- James McPherson, author of Pulitzer Prize-winner Battle Cry of Freedom

"Kids, the Civil War, and dinosaurs-action doesn't get any better than this!" -- Tamora Pierce, New York Times bestselling author of The Song of the Lioness

"As an historian of New York City, I'm thrilled with Daniel José Older's melding of the best of history and fantasy in Dactyl Hill Squad. I couldn't put it down!" -- Leslie Harris, author of In the Shadow of Slavery

"This action-packed historical fantasy adventure should have wide appeal, leaving fans eager for the next installment. Dino-fueled fun with depth." -- Kirkus Reviews

"Older's rousing mix of actual history and dinosaurs will be irresistible to the upper-elementary and middle-school crowds." - Booklist

"Middle schoolers will be drawn to this new alternate history adventure series.... Nonstop action keeps readers engaged.... It is worth noting that this novel is richly infused with real historical people and places. The social and political issue of racial prejudice permeates the storyline.... Look for this series to be popular with students and spur further interest in the Civil War." - School Library Connection
Advance Praise for Dactyl Hill Squad:

"Daniel has imagined the unimaginable and in doing so sends readers on a dino thrill ride. I have been talking about this book nonstop! The kids, the dinosaurs, the Civil War, this book is true fire. It is everything I didn't even know I needed." –Jacqueline Woodson, National Ambassador for Young People's Literature

"An extraordinary adventure full of heart and imagination that adults will enjoy reading just as much as kids! This is the story that would've made me fall in love with reading when I was a kid." -- Tomi Adeyemi, #1 New York Times bestselling author of Children of Blood and Bone

"In this Tyrexcellent historical realignment – fast paced, but deceptively packed with amazing detail – Older's uprising of sheroes and heroes grips, stomps, and soars from start to finish." –Rita Williams-Garcia, New York Times bestselling author of One Crazy Summer

"Dactyl Hill Squad is an engaging, lively adventure with a heroine I wish I were, in a world I didn't want to leave." –Jesmyn Ward, two-time National Book Award-winning author of Sing, Unburied, Sing

"This incredible story brings history to life with power, honesty, and fun." -- Laurie Halse Anderson, New York Times bestselling author of Chains

"A crackling fantasy adventure full of thrilling scenes." -- James McPherson, author of Pulitzer Prize-winner Battle Cry for Freedom

"As an historian of New York City, I'm thrilled with Daniel José Older's melding of the best of history and fantasy in Dactyl Hill Squad. I couldn't put it down! It was wonderful to see familiar people, places, and events in fantastic but still humanly true circumstances.What a perfect way to introduce history to a new generation of readers–I can't wait to share this book with my nephews.Thank you, Daniel José Older!" –Leslie Harris, author of In the Shadow of Slavery

Praise for Shadowhouse Fall:

* "Older paints a compelling picture of contemporary life for black and brown teens in cities.... Lit." -- Kirkus Review, starred review

* "Dynamic, smart." -- Booklist, starred review

"Older has upped the ante.... This entry adds a layer of social activism that is refreshing and timely." -- School Library Journal, starred review

"Older takes the idea of fantasy as metaphor and smashes it to bits, bringing us to a Brooklyn steeped in magic that feels utterly real and punch-to-the-gut perilous. A powerful adventure that blurs the line between the real and the imagined in daring, breathtaking ways, Shadowhouse Fall is not only a thrilling hero's journey, but a magical revolution on the page." -- Leigh Bardugo, New York Times-bestselling author of Six of Crows and Crooked Kingdom

"Brilliant. . . . A novel about Brooklyn, love, spirituality, family and something else. Something I can't even explain but am enthralled by and want more of. This is the beauty and magic of Older's writing--he leaves us openmouthed and speechless, asking 'What just happened to me?!' Loved this book." -- Jacqueline Woodson, New York Times bestselling author of Another Brooklyn and Brown Girl Dreaming

"Shadowhouse Fall flips and reshuffles principles of light and darkness in stunning revelation after revelation. Older's vivid ink and prose deftly obliterates any bounds between a tangible and a supernatural Brooklyn. I am still under its spell." -- Rita Williams-Garcia, three-time Coretta Scott King Author Award-winner

"Here is the real Brooklyn: myriad cultural communities caught in the squeeze and pressure of gentrification, and of course, the shadows and perils of the undead -- and the tough, wise, and lovable Sierra Santiago is there to navigate us through it all. Older is a brilliant storyteller, and with sharp, smart, and hilarious dialogue and prose, Shadowhouse Fall is a fresh, enthralling speculative novel for readers of all ages." -- Brendan Kiely, award-winning co-author of All-American Boys, and critically acclaimed author of The Last True Love Story


Praise for Shadowshaper:

A Top Ten YALSA Best Fiction for Young Adults Selection
A Top Ten ALA Quick Pick
A Kirkus Prize Finalist
An Andre Award Nominee
A New York Times Notable Children's Book
An NPR Best Book of the Year
A Publishers Weekly Best Book of the Year

"In the best urban fantasy, the city is not just a backdrop, but functions as a character in its own right . . . That is certainly true in Daniel José Older's magnificent Shadowshaper, which gives us a Brooklyn that is vital, authentic, and under attack. . . Older is able to infuse Shadowshaper with the spirit of Brooklyn in the summer, where the possibility of magic hangs shimmering in the air. This is a world that readers cannot help wanting to live in and, as with all great urban fantasies, harboring a suspicion that perhaps we already do." -- Holly Black, New York Times bestselling author of The Coldest Girl in Coldtown and The Iron Trial, in The New York Times Book Review

"Older's book is a first-rate example of how representation, diversity and themes of social justice and identity can be skillfully woven into a narrative -- not so that they disappear, but so that the story pivots on them in a way that is authentic, exciting, and ultimately satisfying." -- Cory Doctorow, Boing Boing

"The strength of Older's tale is in his meticulous attention to the details of the life of a brown-skinned, natural-haired Puerto Rican teenage girl. Older's storytelling is rich enough to warrant such treatment, because this is a world that will stay with readers long after the last page." -- Los Angeles Times

* "Warm, strong, vernacular, dynamic -- a must." -- Kirkus Reviews, starred review

* "Excellent diverse genre fiction in an appealing package." -- School Library Journal, starred review

* "What makes Older's story exceptional is the way Sierra belongs in her world, grounded in family, friends, and an awareness of both history and change." -- Publishers Weekly, starred review

* "Smart writing with a powerful message that never overwhelms the terrific storytelling." -- Booklist, starred review

"Older not only gives readers a diverse cast, but he stays true to their background, language and community, lending an authenticity to his work... If you're a YA urban fantasy reader looking for something creative and different, try Shadowshaper on for size." -- Romantic Times Book Review

"Exactly the kind of title Walter Dean Myers charged his peers to pen at the onset of his career and the kind of narrative he was still imploring publishers to fete in the twilight of his life, one that takes young readers, their unique needs and their racial and cultural realities seriously. Shadowshaper would make him proud." -- The Washington Post

"Joyful and assertive and proud, and makes me want to read everything else of Older's, for more of these voices, connections and lives." -- National Public Radio

"Sierra Santiago is the type of character we've all hoped we could have in YA." -- Bustle.com

"Daniel José Older is one of my favorite new voices, and I can't wait to see what he (and Sierra) come up with next." -- Anika Noni Rose, star of Dreamgirls and The Princess and the Frog

"I highly recommend Shadowshaper... it is exceptional in a great many ways." -- Debbie Reese, American Indians in Children's Literature

"One of my favorite books of the year, period." -- Rebecca Schinsky, BookRiot

"Shadowshaper is a game changer." -- FlavorPill