John Wayne: The Life and Legend (Hardcover)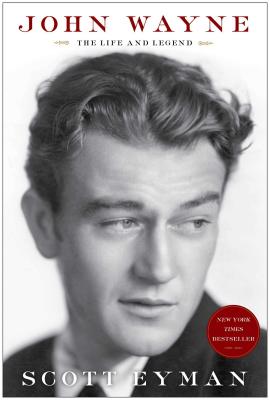 Description
---
Drawing on interviews that author Scott Eyman conducted with John Wayne before his death and more than 100 interviews with the actor's family, co-stars, and close associates, this revelatory biography shows how both the facts and fictions about Wayne illuminate his singular life.

John Wayne was one of Hollywood's most famous and most successful actors, but he was more than that. He became a symbol of America itself. He epitomized the Western film, which for many people epitomized America. He identified with conservative political causes from the early 1930s to his death in 1979, making him a hero to one generation of Americans and a villain to another. But unlike fellow actor Ronald Reagan, Wayne had no interest in politics as a career. Like many stars, he altered his life story, claiming to have become an actor almost by accident when in fact he had studied drama and aspired to act for most of his youth. He married three times, all to Latina women, and conducted a lengthy affair with Marlene Dietrich, as unlikely a romantic partner as one could imagine for the Duke. Wayne projected dignity, integrity, and strength in all his films, even when his characters were flawed, and whatever character he played was always prepared to confront injustice in his own way. More than thirty years after his death, he remains the standard by which male stars are judged and an actor whose morally unambiguous films continue to attract sizeable audiences.

Scott Eyman interviewed Wayne, as well as many family members, and he has drawn on previously unpublished reminiscences from friends and associates of the Duke in this biography, as well as documents from his production company that shed light on Wayne's business affairs. He traces Wayne from his childhood to his stardom in Stagecoach and dozens of films after that. Eyman perceptively analyzes Wayne's relationship with John Ford, the director with whom he's most associated and who made some of Wayne's greatest films, among them She Wore a Yellow Ribbon, The Quiet Man, and The Searchers. His evaluation of Wayne himself is shrewd: a skilled actor who was reluctant to step outside his comfort zone. Wayne was self-aware; he once said, "I've played the kind of man I'd like to have been." It's that man and the real John Wayne who are brilliantly profiled in Scott Eyman's insightful biography of a true American legend.
About the Author
---
Scott Eyman has written fifteen books, three of them New York Times bestsellers, including John Wayne: The Life and Legend. His most recent book is Hank and Jim. He has been awarded the William K. Everson Award for Film History by the National Board of Review. He teaches film history at the University of Miami and lives in West Palm Beach with his wife, Lynn.
Praise For…
---
"[An] authoritative and enormously engaging new biography. . . . [Eyman] takes you through Wayne's life, his death and his legend in a detailed, remarkably knowledgeable yet extremely readable way."
— Peter Bogdanovich
"A spirited portrait of John Wayne and the Hollywood he worked in. . . . Traces his transition from the eager, boyish roles he played in early movies to confident leading man."
— Michiko Kakutani
"We all think we know John Wayne, in part because he seemed to be playing himself in movie after movie. Yet as Eyman carefully lays out, 'John Wayne' was an invention, a persona created layer by layer by an ambitious young actor."
— Glenn Frankel
"No Wayne biography until now has ridden the defile between the reverential and the tendentious with quite the graceful equilibrium of this one. . . . Eyman gets at the details that the bean-counters and myth-spinners miss. . . . Wayne's intimates have told Eyman things here that they've never told anyone else."
— David Kipen
"Deeply researched and totally absorbing."
— Clive Sinclair
"[An] exemplary biography. . . . Eyman appears to have had broad access to Wayne's business and family life, and the result is a book with a compelling claim to being definitive."
— Robert Horton
"Full of historical detail and fan facts,
John Wayne
tracks shy
Marion Robert Morrison
's path to the screen hero who got scant credit for his own craft in creating the John Wayne that rallied audiences."
— David D'Arcy
"A fine show-biz biography, delivering what fans want about the star's career but probing with uncommon depth into his personality."
"Scott Eyman has taken a legend and a statue and given us an odd, decent, muddled but deeply likeable man. That's what makes this book so readable and so touching."
— David Thomson, author of The New Biographical Dictionary of Film and Moments That Made the Movies
"One of the greatest movie star biographies ever written."
— Allen Barra
"In comprehensive detail, this new biography chronicles a great star at work. . . . Like a cinematographer, Mr. Eyman offers readers Wayne from many angles, in his own words and the words of those who worked with him. . . . An engrossing record of how the Duke stayed top dog for so long."
"It would be hard to find a more complete picture of a public figure's life and legend than Eyman gives us of the Duke."
— Larry Thornberry
"[A] splendid biography of Hollywood's most enduring movie star. . . . Eyman offers perceptive views of Wayne's many films and a wagon's worth of revealing and entertaining anecdotes. If you think you know John Wayne, you'll know him even better as a movie star — and appreciate him even more as a person—after reading
John Wayne: The Life and Legend."
— Douglass K. Daniel
"Eyman's exhaustively informative biography is, in essence, a tribute. One ends it liking Duke a lot more."
— John Sutherland
"[Written] with deep research, clear, strong prose and unfailing good humor. The great strength of
Mr. Eyman
's book derives from the strength of its subject."
— John R. Coyne, Jr.
"Eyman . . . does an expert job in nailing Wayne's enduring appeal: On screen and off, he presented a man of action, confidence, self-determination and, sometimes, compassion."
— Chris Foran
"Eyman's take is . . . eye-opening and astute, bolstered by access to the archives of Wayne's production company and a host of interview sources, and the fine way he utilizes oral histories and other research materials."
— Pat Broeske
"A comprehensive and compelling examination of The Duke. . . . Insightful, exhaustive and engrossing—a definitive portrait of the man and the legend."
"Drawing deeply on interviews with family and friends, acclaimed biographer Eyman colorfully chronicles Wayne's life and work. . . . Compulsively readable."