Books On Our Site May Not Be Available In-Store
Is This Book In Stock? Be Savvy! Check availability details beneath the blue "Add to Cart" button.
The Case of the Love Commandos: From the Files of Vish Puri, India's Most Private Investigator (Hardcover)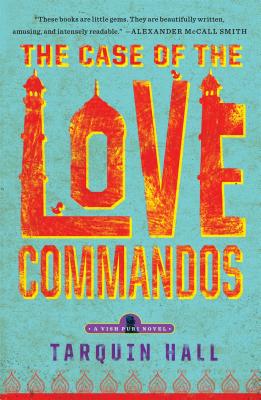 Description
---
In this contemporary Romeo and Juliet story set within India's caste system, private investigator Vish Puri faces his most difficult challenge to date: a high-stakes mystery involving one of India's most controversial commodities: love.

IN THIS CONTEMPORARY ROMEO AND JULIET STORY SET WITHIN INDIA'S CASTESYSTEM, PRIVATE INVESTIGATOR VISH PURI BECOMES EMBROILED IN A HIGH-STAKES MYSTERY INVOLVING ONE OF INDIA'S MOST CONTROVERSIAL COMMODITIES: LOVE.

Critics hailed The Case of the Deadly Butter Chicken, the last installment in the Vish Puri mystery series, as Tarquin Hall's best yet, saying that each book has "raised the stakes subtly" (The Huffington Post) and provided readers with "a gently humorous take on life in contemporary India" (The Christian Science Monitor). Now, in The Case of the Love Commandos, Hall has upped the ante yet again, throwing more twists, turns, and surprises at India's "Most Private Investigator" than ever before. When Ram and Tulsi fall in love, the young woman's parents are dead set against the union. She's from a high-caste family; he's an Untouchable, from the lowest stratum of Indian society. Young Tulsi's father locks her up and promises to hunt down the "loverboy dog." Fortunately, India's Love Commandos, a real-life group of volunteers dedicated to helping mixed-caste couples, come to the rescue. Just after they liberate Tulsi, Ram is mysteriously snatched from his hiding place.

It falls to Vish Puri to track down Ram and reunite the star-crossed lovers. Unfortunately, Puri's having a bad month. Not only did he fail to recover a stolen cache of jewels, but his wallet was filched and he has to rely on his Mummy-ji to get it back. To top it all off, his archrival, suave investigator Hari Kumar, is also trying to locate Ram. In the daring race to find Ram, Puri and his team must infiltrate Ram's village and navigate the caste politics shaped by millennia-old prejudices.

With wildly entertaining prose, outsize characters, and a perfect sense of place, this modern tale of star-crossed lovers transports us deep into Indian history and culture. And as ever, Tarquin Hall's gormandizing Punjabi detective is never short of a good curry.
About the Author
---
Tarquin Hall is a British author and journalist who has lived and worked throughout South Asia, the Middle East, and Africa. He is the author of The Case of the Missing Servant, The Case of the Man Who Died Laughing, and The Case of the Deadly Butter Chicken, along with dozens of articles and three works of nonfiction, including the highly acclaimed Salaam Brick Lane, an account of a year spent living above a Bangladeshi sweatshop in London's notorious East End. He lives in Delhi with his wife, Indian-born journalist Anu Anand, and their son.
Praise For…
---
"These books are little gems. They are beautifully written, amusing, and intensely readable."
— Alexander McCall Smith

"India, captured in all its pungent, vivid glory, fascinates almost as much as the crime itself."

"Hall writes amusing mysteries... [his] affectionate humor is embedded with barbs."
— Marilyn Stasio

"Splendid... Entertaining... Vish Puri is large, constantly hungry, a perpetual victim of Delhi's traffic congestion, and a wonderfully engaging P.I.... A joy to read."

"It's only a matter of time before Hollywood turns this into a movie or a TV show... The three books develop nicely with each central mystery a little more complicated and dangerous than the one before… It's quite possible that what has begun as fun series will become a genuinely great one."

"A wry whodunit, with recipes."

"Outstanding third mystery… Well drawn, colorful characters bolster a whodunit sure to appeal to those who enjoy a dash of humor with their crime."

"A thoroughly engaging series… Hall has a gift for conveying the rich stew of competing cultures in contemporary India with a wonderful economy of image… Hall presents a complex hero in a complex country with a great deal of history, humor, and panache."

"Vish's third outing continues the tradition of Hall's lively franchise."

"Hall takes the reader into a very Indian, very Delhi web of spirituality, sin, slums, and power broking, but all treated with a veneer of wit and intelligent absurdity." —India Today

"Modern India, in all its colorful squalor, provides a vivid backdrop for this well-crafted whodunit." —Jean Westmoore, Buffalo News