The Texas Food Bible: From Legendary Dishes to New Classics (Hardcover)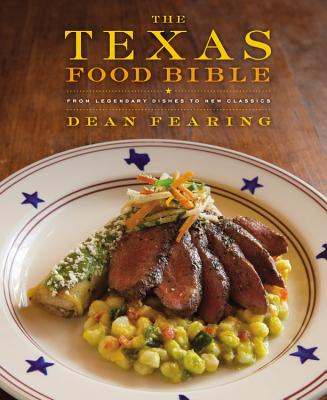 $32.00
Out of Stock; Usually Arrives in 2-5 Days
Description
---
Everyone loves Texas food and now, Dean Fearing, arguably the best chef in Texas, shares the top traditional and modern dishes from the Lone Star State.

THE TEXAS FOOD BIBLE
From Legendary Dishes to New Classics

THE TEXAS FOOD BIBLE will be a timeless, authentic resource for the home cook-a collection of the traditional and the contemporary recipes from Texas. Dean Fearing will take readers through Texas culinary heritage, the classic preparations involved, and the expansion and fusion of the foods that have combined to develop an original Southwestern cuisine. A bit of regional history will take the reader from fry bread to Sweet Potato Spoonbread, from Truck Stop Enchiladas to Barbecue Shrimp Tacos. Simple taco and salsa recipes will be starred right beside the culinary treasures that make Dean's cooking internationally known. This comprehensive guide will include step-by-step methods and techniques for grilling, smoking, and braising in the Southwestern manner, in addition to recipes from other chefs who have contributed to the evolution of this regional cuisine, such as Robert del Grande and Stephen Pyles, and a look at local purveyors such as Paula Lambert's cheese. These recipes will be accompanied by more than 150 photographs of finished dishes and the cooking process along with a glossary of food terms. THE TEXAS FOOD BIBLE is the ultimate cookbook for foodies and simple home cooks alike.
About the Author
---
Long known as the "Father of Southwestern Cuisine," Chef Dean Fearing has been recognized as a "Pioneer of American Cuisine" by the Culinary Institute of America, was presented with the Silver Spoon for sterling performance by Food Arts, and has won the James Beard Award for "Best Chef in the Southwest." After 20 plus years as the chef at The Mansion on Turtle Creek, he opened Fearing's in 2007 at The Ritz-Carlton, Dallas, which has been named "Restaurant of the Year" and "Table of the Year by Esquire Magazine, No. 1 in Hotel Dining by Zagat Survey, and nominated by the James Beard Foundation for Best New Restaurant, and has received accolades from The New York Times, Newsweek, Food and Wine, Texas Monthly and others.
Praise For…
---
"I first experienced Dean Fearing's modern Texas-inspired cuisine about 25 years ago. The thought of it still makes me want to put on a pair of cowboy boots and kick up my heels at the astonishing flavors and beautiful presentations Dean creates by combining his classically trained techniques with local ingredients and ethnic traditions. I can't wait to try some of the recipes from The Texas Food Bible, including Gulf Coast Crab Benedict with Cilantro Hollandaise, Pork Tenderloin with Watermelon-Jalapeño Glaze, East Texas Seafood Jambalaya, Mexican Rice Pudding, and Parker County Fried Peach Pies. Dean is not only an excellent chef but he's also a kind person who is full of contagious enthusiasm. His big-as-Texas talent and personality shine from every page." --Wolfgang Puck