The Sherlock Holmes Book: Big Ideas Simply Explained (Hardcover)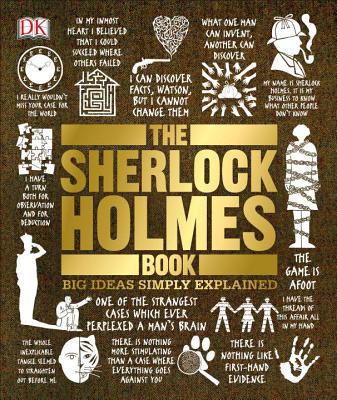 $25.00
Out of Stock; Usually Arrives in 2-5 Days
Description
---
The Sherlock Holmes Book, the latest in DK's award-winning Big Ideas Simply Explained series, tackles the most "elementary" of subjects — the world of Sherlock Holmes, as told by Sir Arthur Conan Doyle.
The Sherlock Holmes Book is packed with witty illustrations, clear graphics, and memorable quotes that make it the perfect Sherlock Holmes guide, covering every case of the world's greatest detective, from A Study in Scarlet to The Adventure of Shoscombe Old Place, placing the stories in a wider context. Stories include at-a-glance flowcharts that show how Holmes reaches his conclusions through deductive reasoning, and character guides provide handy reference for readers and an invaluable resource for fans of the Sherlock Holmes films and TV series.
The Sherlock Holmes Book holds a magnifying glass to the world of Sir Arthur Conan Doyle's legendary detective.
About the Author
---
DK Publishing was founded in London in 1974 and is now the world's leading illustrated reference publisher and part of Penguin Random House, formed on July 1, 2013. DK publishes highly visual, photographic nonfiction for adults and children, and produces content for consumers in more than 87 countries and 62 languages, with offices in Delhi, London, Melbourne, Munich, New York, and Toronto. DK's aim is to inform, enrich, and entertain readers of all ages, and everything DK publishes, whether print or digital, embodies the unique DK design approach. DK brings unrivaled clarity to a wide range of topics with a unique combination of words and pictures, put together to spectacular effect. It has a reputation for innovation in design for both print and digital products. DK's adult range spans travel—including the award-winning DK Eyewitness Travel Guides—history, science, nature, sport, gardening, cookery, and parenting. DK's extensive children's list showcases a fantastic store of information for children, toddlers, and babies. DK covers everything from animals and the human body, to homework help and craft activities, together with an impressive list of licensing titles, including the bestselling LEGObooks. DK acts as the parent company for Alpha Books, publisher of the Idiot's Guides series and Prima Games, video gaming publishers, as well as the award-winning travel publisher Rough Guides.Leslie S. Klinger is the bestselling author of The New Annotated Sherlock Holmes, The New Annotated Dracula, and The New Annotated H. P. Lovecraft. The first two volumes of The New Annotated Sherlock Holmes, The Complete Short Stories won the Edgar Award for Best Critical/Biographical work. Klinger is a practicing lawyer, a member of the Baker Street Irregulars, and lives in Malibu, California.
Praise For…
---
"[A]n enjoyable guide to the Canon and to the world of Sherlock Holmes." — Scuttlebutt Magazine
"All in all, it's an absolute stunning resource for any Sherlock fan, and a perfect companion to offer any new reader of the original Doyle stories." — Geekdad.com
"It's most definitely a book that can be enjoyed when it's dark and stormy outside and the comfort of home invites for an investigation of the universe of Sherlock Holmes." — The Baker Street Babes
"[A]n encyclopedic, illustrated exploration of the entire canon of Sir Arthur Conan Doyle's tales of Sherlock and Dr. Watson." — Parade.com
"Okay, this book came out in October, but since it's ultra-gift-buying time, I wanted to make sure everyone had seen it. BECAUSE IT ROCKS." — BookRiot!
"This delightful and informative source is definitely for the Holmes aficionado." — Voice of Youth Advocates