Cry Father: A Book Club Recommendation! (Paperback)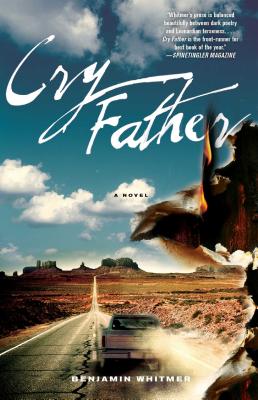 Staff Reviews
---
"This powerful novel follows a tree cutter who works at disaster sites as he tries to clear the wreckage from his life after the loss of his son. His journey takes him though a violent storm of drugs, bikers, and a dark relationship between a father and son. Whitmer looks at his characters with a non-judgemental eye, delivering rich pathos from the margins of America."
— Scott M.
Description
---
The second novel from the critically acclaimed writer of Pike, which was nominated for France's prestigious Grand Prix de Littérature Policière crime fiction award and "easily rivals Larry Brown's most renowned novels" (Spinetingler Magazine). In the tradition of Cormac McCarthy and Larry Brown comes a haunting story about men, their fathers, their sons, and the legacy of violence.

For Patterson Wells, disaster is the norm. Working alongside dangerous, desperate, itinerant men as a tree clearer in disaster zones, he's still dealing with the loss of his young son. Writing letters to the boy offers some solace. The bottle gives more.

Upon a return trip to Colorado, Patterson stops to go fishing with an old acquaintance, only to find him in a meth-induced delirium and keeping a woman tied up in the bathtub. In the ensuing chain of events, which will test not only his future but his past, Patterson tries to do the right thing. Still, in the lives of those he knows, violence and justice have made of each other strange, intoxicating bedfellows.

Hailed as "the next great American writer" (Frank Bill, author of Crimes in Southern Indiana), Benjamin Whitmer has crafted a literary triumph that is by turns harrowing, darkly comic, and wise.
About the Author
---
Benjamin Whitmer is the author of Cry Father and Pike, which was nominated for the 2013 Grand Prix de Littérature Policière, and coauthor (with Charlie Louvin) of Satan is Real, a New York Times' Critics' Choice book. He was born and raised on back-to-the-land communes and counterculture enclaves ranging from Southern Ohio to Upstate New York. One of his earliest and happiest memories is of standing by the side of a country road with his mother, hitchhiking to parts unknown. Since then, he's been a factory grunt, a vacuum salesman, a convalescent, a high-school dropout, a graduate student, a semi-truck loader, an activist, a kitchen-table gunsmith, a squatter, a college professor, a dishwasher, a technical writer, and a petty thief.
Praise For…
---
"Cry Father is strong medicine. It burns going down, but there's healing in that dose as well. It's a book that put me in the mind of my own Dad and made me think of my own duties as a father. And any book that can reach inside your heart and mind and force you to reflect on such things is doing something very, very right indeed."
— Craig Davidson, author of Rust and Bone and Cataract City

"Whitmer's bleak tale of dysfunctional father-son relationships contains some shockingly violent scenes, captures the seedy milieus of rundown mountain towns, and tallies the enormous cost of loving and losing."
— Booklist

"Whitmer writes about the rustbelt of life. Showing the seedy, the dark, and the things that others are afraid to show."
— Frank Bill, author of Crimes in Southern Indiana

"Since the death of Larry Brown there have been at least a dozen novelists touted as the heir to Brown's gritty throne. Needless to say, there have been few who've actually lived up to the promise. However, Benjamin Whitmer's stark debut [Pike] easily rivals Brown's most renowned novels."
— Spinetingler Magazine

"Benjamin Whitmer's latest, Cry Father, is a gut punch of raw storytelling power. A novel of fathers and sons, and the constant—and at times emotionally crippling—mistakes both make. Much like Whitmer's first novel, it is absolutely uncompromising and one of 2014's must read novels."
— Lit Reactor

"Whitmer's deft descriptions of biker bars, greasy spoons and mean streets are as spot-on as his clear, clean appreciation of the high country where the 'peaks...look like earth torn out of the sky.'"
— Kirkus Reviews

"Searing, spare, beautiful prose and characters who arrive on the page already well-worn. A pebble tossed into this novel reveals concentric waves of violence, guilt, culpability, shame, and vengeance – and yet when the surface settles, astonishingly, there is hope."
— Sophie Littlefield, author of Garden of Stones and The Missing Place

Benjamin Whitmer writes with fearless and savage veracity, beautiful and brutal in equal measure.
— Christa Faust, Author of Money Shot

In prose both beautiful and raw...Whitmer presents an Americana too long off the mainstream literary grid. Brilliant.
— Charlie Stella, Author of Shakedown