Books On Our Site May Not Be Available In-Store
Is This Book In Stock? Be Savvy! Check availability details beneath the blue "Add to Cart" button.
Liars' Paradox (A Jack and Jill Thriller #1) (Hardcover)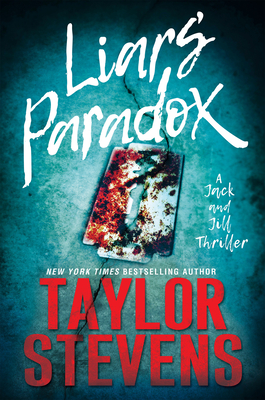 Description
---
A master of international intrigue, New York Times bestselling author Taylor Stevens introduces a pair of wild cards into the global spy game—a brother and sister who were raised to deceive—and trained to kill . . .
 
They live in the shadows, Jack and Jill, feuding twins who can never stop running. From earliest memory they've been taught to hide, to hunt, to survive. Their prowess is outdone only by Clare, who has always been mentor first and mother second. She trained them in the art of espionage, tested their skills in weaponry, surveillance, and sabotage, and sharpened their minds with nerve-wracking psychological games. As they grew older they came to question her motives, her methods—and her sanity . . . 
 
Now twenty-six years old, the twins are trying to lead normal lives. But when Clare's off-the-grid safehouse explodes and she goes missing, they're forced to believe the unthinkable: Their mother's paranoid delusions have been real all along. To find her, they'll need to set aside their differences; to survive, they'll have to draw on every skill she's trained them to use. A twisted trail leads from the CIA, to the KGB, to an underground network of global assassins where hunters become the hunted. Everyone, it seems, wants them dead—and, for one of the twins, it's a threat that's frighteningly familiar and dangerously close to home . . .
 
Filled with explosive action, suspense, and powerful human drama, Liars' Paradox is world-class intrigue at its finest.
About the Author
---
Taylor Stevens is a critically acclaimed, multiple award‑winning, New York Times bestselling author of international thrillers including the breakout hit The Informationist. Best known for high-octane stories populated with fascinating characters in vivid boots-on-the-ground settings, her books have been optioned for film and published in over twenty languages. In addition to writing novels, Stevens shares extensively about the mechanics of storytelling, writing, overcoming adversity, and the details of her journey into publishing at www.taylorstevensbooks.com. She welcomes you to join her.
Praise For…
---
Highest Praise for Liars' Paradox
 
"Hard, fast, and razor sharp - the start of what could be the best new series in years."
—Lee Child, #1 New York Times Bestselling Author
 
"Liars' Paradox is an exceptional thriller that is unlike anything you've ever read before.  These twins, Jack and Jill, are the most fascinating characters I've seen in years.  Bravo, Taylor Stevens!"
—John Gilstrap, New York Times Bestselling Author of Scorpion Strike and Other Jonathan Grave Thriller Series
 
"Taylor Stevens redefines the modern thriller with this kinetic masterpiece, rattling readers to the bone.  In Liars' Paradox, echoes of the Cold War ripple through the pages, with a fresh twist involving a dynamite sibling duo. Take heed, Jack and Jill are here to stay."
—K.J. Howe, Bestselling Author of The Freedom Broker and Skyjack
 
"Taylor Stevens' Liars' Paradox is top-notch, and her introduction of Jack and Jill brings a fresh sense of intrigue and danger into a world over-populated with same old same old characters. Can't wait for book two."
—Reed Farrel Coleman, New York Times Bestselling Author of Robert B. Parker's Colorblind
 
"No lie—Taylor Stevens' Liars' Paradox is a high-octane thriller that takes sibling rivalry to a new level. The debut of a promising and exciting series."
—Jeff Abbott, New York Times Bestselling Author of The Three Beths
 
"It's time for the world to meet Jack and Jill, brother-sister assassins who kick off one of the most exhilarating, entertaining, and emotionally complex thriller series in years. In Liars' Paradox, Taylor Stevens delivers her kick-ass brand: writing that drips with delicious darkness, a feminist punch, and the kind of authentic action sequences that would make you think twice about meeting her in a dark alley. She is without a doubt one of the best action-thriller writers on the planet."
—Julia Heaberlin, Internationally Bestselling Author of Black-Eyed Susans and Paper Ghosts
 
"Young, talented, and trained killers, twins Jack and Jill are heroes of a different sort.  Their powerful debut in Taylor Stevens's riveting Liars' Paradox sends the reader on the adventure of a lifetime as these dynamos uncover the truth about themselves and the dark world they can't seem to leave.  I loved it!"
—Gayle Lynds, New York Times Bestselling Author of The Assassins
 
"Stevens' brilliant and dark Liars' Paradox is a twisting tale of espionage and revenge from a gifted thriller writer and introduces two new fascinating and deadly siblings, Jack and Jill. Compelling and addicting from the first page to the last."
—Jamie Freveletti, Internationally Bestselling Author of Blood Run
 
"The world's most dangerous and dysfunctional family, only with knives, bombs, and guns -- that, in a nutshell, is Liars' Paradox. If you're already a Taylor Stevens fan, this book will re-anoint you. If you haven't read her yet, do yourself a favor, grab this book, crack the cover, and don't make any plans for the next day or so."
—Simon Toyne, International Bestselling Author of the Sanctus trilogy
 
"Liars' Paradox is hands-down the best thriller I've read this year. Original, cunning, smart, riveting and relentless; with complex characters, pitch-perfect pacing, and high tension from page one to the end that begs for a movie treatment. Taylor Stevens has catapulted herself to the top of my favorite authors, right up there with Lisa Gardner and Lee Child."
—Allison Brennan, New York Times Bestselling Author of the Max Revere novels
 
"Liars' Paradox is pulse-pounding thriller in the vein of Nelson DeMille's The Charm School. Taylor Stevens weaves a web of betrayal and intrigue that kept me flipping pages, blew me away, and left me hungry for her next release!"
—Mark Greaney, #1 New York Times Bestselling Author of Mission Critical
 
"A high-octane series launch. Abundant action, unexpected twists, and a kaleidoscopic narrative keep the pace brisk and the tension high. The cinematic plot entertains, and a nail-biting conclusion gratifies while raising the stakes for book two."
—Publishers Weekly