Her Nightly Embrace: The Ravi PI Series (Hardcover)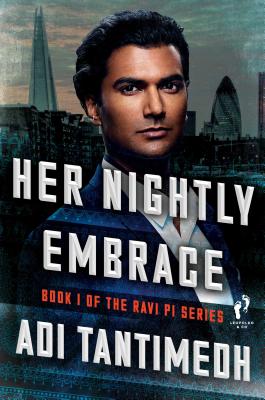 $26.00
Out of Stock; Usually Arrives in 2-5 Days
Other Books in Series
This is book number 1 in the Ravi PI series.
Description
---
The first in a trilogy of whip-smart novels—currently in development as a TV series set to star Sendhil Ramamurthy (NBC's Heroes and Heroes Reborn)—about a destructive private investigator and his eccentric coworkers, who handle cases so high-profile that they never make the headlines.

Ravi Chandra Singh is the last guy you'd expect to become a private detective. A failed religious scholar, he now works for Golden Sentinels, an upmarket London private investigations agency. His colleagues are a band of gleefully amoral and brilliant screw-ups: Ken and Clive, a pair of brutal ex-cops who are also a gay couple; Mark Chapman, a burned-out stoner hiding a great mind; Marcie Holder, a cheerful former publicist; Benjamin Lee, a techie prankster from South London; David Okri, an ambitious lawyer from a well-connected Nigerian immigrant family; and Olivia Wong, an upper-class Hong Kong financial analyst hiding her true skills as one of the most dangerous hackers in the world—all under the watchful eye of Roger Golden, wheeler-dealer extraordinaire, and his mysterious office manager, Cheryl Hughes.

Thrust into a world where the rich, famous, and powerful hire him to solve their problems and wash their dirty laundry, Ravi finds himself in over his head with increasingly gonzo and complex cases – and the recent visions that he's been having of Hindu gods aren't helping. As Ravi struggles to stay ahead of danger, he wonders if the things he's seeing are a delusion – or if he might, in fact, be an unrecognized shaman of the modern world...
About the Author
---
Adi Tantimedh has a BA in English Literature from Bennington College and an MFA in Film and Television Production from New York University. He is of Chinese-Thai descent and came of age in Singapore and London. He has written radio plays and television scripts for the BBC and screenplays for various Hollywood companies, as well as graphic novels for DC Comics and Big Head Press, and a weekly column about pop culture for BleedingCool.com. He wrote "Zinky Boys Go Underground," the first post-Cold War Russian gangster thriller, which won the BAFTA for Best Short Film in 1995 and is the author of Her Nightly Embrace, Her Beautiful Monster, and Her Fugitive Heart.
Praise For…
---
"Her Nightly Embrace introduces us to an exciting and dynamic new world of storytelling in which spirituality and science are inextricably entwined. Ravi is a character unlike any that readers have quite encountered before, and as he starts to see increasingly wild and fascinating visions, so will those lucky enough to dive into this rich narrative."
— Deepak Chopra

"Tantimedh's episodic first novel, a trilogy launch, takes the reader on an exhilarating roller-coaster ride of unusual cases."
— Publishers Weekly

"Graphic novelist and screenwriter Tantimedh (La Muse) does an excellent job of shaping Ravi into a caustic yet empathetic observer of the chaos around him, and even the conceit that he sees Hindu gods…is handled organically and mostly subtly."