Still Water: A Novel (Paperback)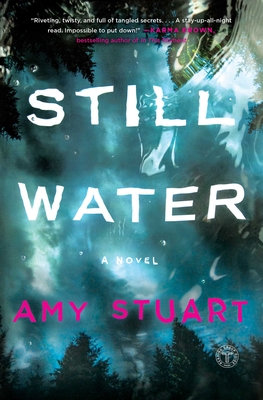 $15.99
Out of Stock; Usually Arrives in 2-5 Days
Description
---
From the Globe and Mail bestselling author of Still Mine comes a new psychological thriller about the hunt for a missing mother and son in a town that is drowning in deception.

How do you find the truth in a town full of secrets?

Sally Proulx and her young boy have mysteriously disappeared in the stormy town of High River. Clare O'Dey is hired to track them down, hoping against all odds to find them alive. But High River isn't your typical town.

In a town where secrets are crucial to survival, everyone is hiding something. And the police clearly have an ulterior motive beyond solving the case. Malcolm Boon, who hired Clare, knows more about her than he reveals. Their benefactor, Helen Haines, is concealing a tragic family history of her own. As the truth surges through High River, Clare must face the very thing she has so desperately been running from, even if it comes at a devastating cost. Compulsively gripping and twisty, Still Water is a deep dive of a thriller that will leave you breathless.
About the Author
---
Amy Stuart is the #1 bestselling author of two novels, Still Mine and Still Water. Shortlisted for the Arthur Ellis Best First Novel Award and winner of the 2011 Writers' Union of Canada Short Fiction Competition, Amy's writing has previously appeared in newspapers and magazines across Canada. In 2012, Amy completed her MFA in Creative Writing through the University of British Columbia. She lives in Toronto with her husband and their three sons. Connect with her on her website AmyStuart.ca and on twitter @AmyFStuart.
Praise For…
---
"Riveting, twisty and full of tangled secrets…. A stay-up-all-night read. Impossible to put down!"
— Karma Brown, bestselling author of In This Moment

"Utterly compelling and intriguing, Still Water is a very clever whodunit with a most appealingly vulnerable protagonist. My husband thought I was ignoring him while I was reading this book. I wasn't. I just forgot he existed because I was so engrossed. Warn your families before you pick up this book."
— Liz Nugent, bestselling author of UNRAVELING OLIVER

"The tension in this book is sharp enough to cut. A pervasive sense of dread and danger flows through Still Water as Clare struggles to unravel both the secrets in front of her and the ones she thought she left behind. If you liked Still Mine, you'll love Still Water."
— Tyrell Johnson, bestselling author of The Wolves of Winter

"As swift, intense and vengeful as the river it describes, this book is a must-read. Secrets swirl in the deep of Still Water, Stuart's gripping new thriller of loss and refuge. With a gallery of characters on the run, the pages beat and churn like an aching heart."
— Roz Nay, bestselling author of Our Little Secret

"Instantly captivating, mysterious and relevant—Amy Stuart has done it again!"
— Marissa Stapley, author of Things to Do When It's Raining

"Complex characters with gut-wrenching backstories propel this twisty mystery toward its shocking conclusion. I was engrossed!"
— Robyn Harding, bestselling author of The Party

"[A] dark and disturbing sequel to Stuart's debut novel, Still Mine . . . Stuart has created a gripping neo-noir staged in an oppressively hot setting alongside an out-of-control river, with a cast of badly damaged people beset by abuse, addiction, denial, and obsession who seem doomed to do the right things for the wrong reasons and the wrong things for the right reasons."
— Booklist

"Engrossing . . . a complex heroine to whom readers will relate and the vividly evoked natural setting save the day."
— Publishers Weekly

"You won't know who to believe in this titillating charade."
— Women.com