Angels & Demons: The Illustrated Moviebook (Pictorial Moviebook) (Paperback)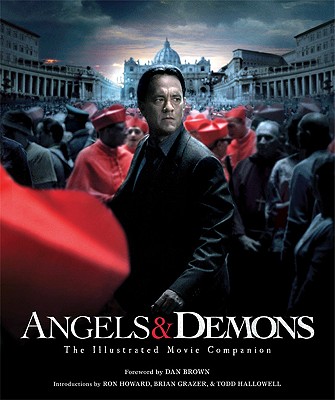 Description
---
Angels & Demons: The Illustrated Movie Companion is the only official book hailing the extraordinary filmmakers at the heart of this thought-provoking and totally unorthodox thriller. Reuniting Academy Award® winners Ron Howard, Brian Grazer, and Tom Hanks, this suspense-filled movie, based on Dan Brown's ticking-bomb novel, sprints through crypts, catacombs, and cathedrals to decipher clues prophesying the mutilation of cardinals with mysterious symbols.
The story of how this movie was created is told here through the voices of the filmmakers, who explain the challenges of re-creating exact replicas of some of the world's most exquisite sites, including the Sistine Chapel, St. Peter's Basilica, St. Peter's Square, and Piazza Navona with Bernini's Fountain of the Four Rivers, among others.
This lavishly illustrated book brims with more than 270 color photographs, including archival images, storyboard art, period paintings, and digital production art; insider's information about the creative process behind the production and scenic design, costumes, set decorations, paintings, sculptures, and props created for the movie by artisans in London, Italy, and Los Angeles; interviews with cast and crew members; a foreword by Dan Brown; and introductions by Ron Howard, Brian Grazer, and Todd Hallowell.
Of his firsthand experience on the set of Angels & Demons, Dan Brown writes, "I was privileged to watch some of moviemaking's noblest soldiers as they did daily battle and conquered Herculean forces." Those forces are brought to life in this book that puts you right there on location in Rome, London, and Los Angeles with the novelist and the filmmakers of Angels & Demons.
About the Author
---
Linda Sunshine is the author of more than sixty books, including novels, humor books, and other Newmarket Pictorial Moviebooks on the films How to Train Your Dragon 2, Wall Street: Money Never Sleeps, The Mummy: Tomb of the Emperor Soldier, Angels & Demons, and Saving Private Ryan. She lives in Los Angeles.