Books On Our Site May Not Be Available In-Store
Is This Book In Stock? Be Savvy! Check availability details beneath the blue "Add to Cart" button.
O Pioneers! (Barnes & Noble Classics) (Paperback)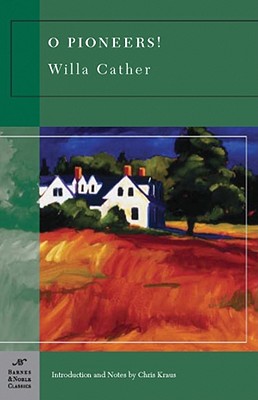 $8.95
It's complicated, and may be unavailable. Place an order and we will contact you with the expected arrival date.
Description
---
&&LDIV&&R&&LDIV&&R&&LDIV&&R&&LP style="MARGIN: 0in 0in 22.5pt"&&R&&LI&&RO Pioneers &&L/I&&R, by &&LSTRONG&&RWilla Cather&&L/B&&R, is part of the &&LI&&RBarnes & Noble Classics&&L/I&&R&&LI&&R &&L/I&&Rseries, which offers quality editions at affordable prices to the student and the general reader, including new scholarship, thoughtful design, and pages of carefully crafted extras. Here are some of the remarkable features of &&LI&&RBarnes & Noble Classics&&L/I&&R: &&L/P&&R
New introductions commissioned from today's top writers and scholars Biographies of the authors Chronologies of contemporary historical, biographical, and cultural events Footnotes and endnotes Selective discussions of imitations, parodies, poems, books, plays, paintings, operas, statuary, and films inspired by the work Comments by other famous authors Study questions to challenge the reader's viewpoints and expectations Bibliographies for further reading Indices & Glossaries, when appropriate
All editions are beautifully designed and are printed to superior specifications; some include illustrations of historical interest. &&LI&&RBarnes & Noble Classics &&L/I&&Rpulls together a constellation of influences--biographical, historical, and literary--to enrich each reader's understanding of these enduring works.&&L/DIV&&R&&L/DIV&&R&&LDIV&&R &&L/DIV&&R&&LDIV&&R"The history of every country begins in the heart of a man or a woman," writes &&LB&&RWilla Cather&&L/B&&R in &&LI&&RO Pioneers &&L/I&&RThe country is America; the woman is Alexandra Bergson, a fiercely independent young Swedish immigrant girl who inherits her father's farm in Nebraska. A model of emotional strength, courage, and resolve, Alexandra fights long and hard to transform her father's patch of raw, wind-blasted prairie into a highly profitable business. &&LBR&&R&&LBR&&RA gripping saga of love, murder, greed, failure, and triumph, O Pioneers vividly portrays the hardships of prairie life. Above all, it champions the belief that hard work is the surest road to personal fulfillment. Described upon publication in &&LI&&RThe New York Times&&L/I&&R as "American in the best sense of the word," &&LI&&RO Pioneers &&L/I&&Rcelebrates the men and women who struggled to build a nation that is both compelling and contradictory. &&LBR&&R&&LBR&&R&&LP style="MARGIN: 0in 0in 0pt"&&R&&LSTRONG&&RChris Kraus&&L/B&&R is the author of &&LI&&RAliens & Anorexia&&L/I&&R, &&LI&&RI Love Dick&&L/I&&R, and the forthcoming novel, &&LI&&RTorpor&&L/I&&R. She is co-editor of &&LI&&RHatred of Capitalism: A Semiotexte Reader&&L/I&&R, and edits Semiotexte Native Agents, a series of mostly female underground fiction.&&L/P&&R&&L/DIV&&R&&L/DIV&&R&&L/B&&R&&L/B&&R.