Wish Girl (Hardcover)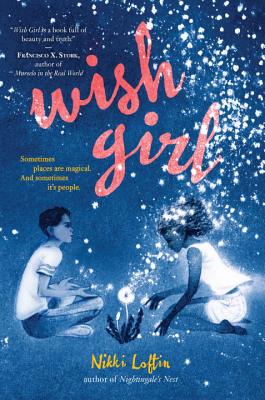 Description
---
A dying girl gives a boy the strength to live in this lyrical novel that will break your heart and lift your spirit

Peter Stone's parents and siblings are extroverts, musicians, and yellers—and the louder they get, the less Peter talks, or even moves, until he practically fits his last name. When his family moves to the Texas Hill Country, though, Peter finds a tranquil, natural valley where he can, at last, hear himself think.

There, he meets a girl his age: Annie Blythe. Annie tells Peter she's a "wish girl." But Annie isn't just any wish girl; she's a "Make-A-Wish Girl." And in two weeks she will begin a dangerous treatment to try and stop her cancer from spreading. Left alone, the disease will kill her. But the treatment may cause serious, lasting damage to her brain. 

Annie and Peter hatch a plan to escape into the valley, which they begin to think is magical. But the pair soon discovers that the valley—and life—may have other plans for them. And sometimes wishes come true in ways they would never expect.
About the Author
---
Nikki Loftin lives and writes just outside Austin, Texas, surrounded by dogs, chickens, and small, loud boys. She is also the author of the multiply starred-reviewed Nightingale's Nest and The Sinister Sweetness of Splendid Academy, which Publishers Weekly called "mesmerizing" and Kirkus called "irresistible." You can visit her online at www.nikkiloftin.com or on Twitter @NikkiLoftin.
Praise For…
---
Praise for Wish Girl:

* "A moving, mesmerizing story of wishing, listening and hope." --Kirkus Reviews, starred review

"I found hope and magic tucked gently into every page of Wish Girl. I wish ever reader could have a friend like Annie." --Natalie Lloyd, author of A Snicker of Magic

"Wish Girl is a book full of beauty and truth. Its pages are filled with the emotion of first love and the energy of suspense." --Francisco Stork, author of Marcelo in the Real World

"Wish Girl  is a book that knows real magic exists-- that art, nature, and true friendship have the power to save lives and transform the world. It's at once earthly and ethereal, heartbreaking and hopeful.  It dazzles." --Laurel Synder, author of Bigger Than a Breadbox

Praise for Nikki Loftin's Nightingale's Nest:

"It was the writing, of course, that struck my attention first. Loftin gives the book beautiful sequences filled with equally beautiful sentences. . . . As for the characters, there wasn't a person here that I couldn't recognize as real. I was quite taken with the fact that Loftin continually sidesteps a lot of the usual middle grade tropes. . . . Smart and beautiful by turns, Nightingale's Nest does one thing that few will contest. Once you've read it, you'll have a hard time getting it out of your head." –Elizabeth Bird, School Library Journal blog

* "Unusual, finely crafted story of loss, betrayal, and healing." —Kirkus Reviews, starred review

* "Magical realism meets coming of age in this sensitive and haunting novel . . . . Read this aloud and have both boys and girls alike utterly enraptured." –BCCB, starred review

"It is Loftin's skill in depicting both the human and the arboreal characters that will engage and inspire readers. The lyrical, descriptive prose and the hopeful ending will linger long after the final chapter." —School Library Journal

"Riveting. . . . This is a book you'll long remember."—Lynda Mullaly Hunt, author of One for the Murphys

"An extraordinary read—I had to tear myself away from it."—Katherine Catmull, author of Summer and Bird

"Perfectly captures the challenges of growing up and dealing with loss. Get ready to have your heart touched."—Shannon Messenger, author of Keeper of the Lost Cities

"Tugs and tears at the reader's heart. . . . lovely and magical."—Bethany Hegedus, author of Truth with a Capital T and Between Us Baxters

"Loftin's eye for strange beauty in unexpected places often takes the reader's breath away."—Claire Legrand, author of The Cavendish Home for Boys and Girls

"Will haunt your soul—and lift your heart."—Kimberley Griffiths Little, author of The Healing Spell and When the Butterflies Came

"A haunting, beautifully told story!"—Bobbie Pyron, author of The Dogs of Winter and A Dog's Way Home

"The kind of book I wanted to read slowly."—Shelley Moore Thomas, author of The Seven Tales of Trinket

"This is a work of tremendous heart."—Anne Ursu, author of Breadcrumbs

Praise for Nikki Loftin's The Sinister Sweetness of Splendid Academy:

"A mesmerizing read."—Publishers Weekly

"An irresistable contemporary fairy tale."—Kirkus Reviews