Send My Love and a Molotov Cocktail!: Stories of Crime, Love and Rebellion (Switchblade) (Paperback)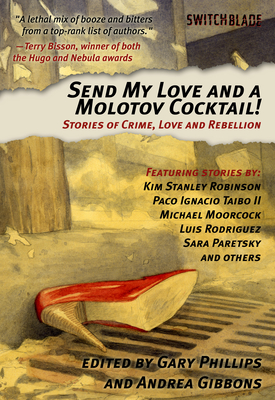 $19.95
It's complicated, and may be unavailable. Place an order and we will contact you with the expected arrival date.
Description
---
An incendiary mixture of genres and voices, this collection of short stories compiles a unique set of work that revolves around riots, revolts, and revolution. From the turbulent days of unionism in the streets of New York City during the Great Depression to a group of old women who meet at their local café to plan a radical act that will change the world forever, these original and once out-of-print stories capture the various ways people rise up to challenge the status quo and change up the relationships of power. Ideal for any fan of noir, science fiction, and revolution and mayhem, this collection includes works from Sara Paretsky, Paco Taibo II, Cory Doctorow, Kim Stanley Robinson, and Summer Brenner.
About the Author
---
Gary Phillips is the author of The Jook and The Underbelly. He is an editor and a contributor to Orange County Noir. He lives in Los Angeles. Andrea Gibbons is an editor at PM Press and the associate editor of the progressive journal CITY.
Praise For…
---
"Send My Love and a Molotov Cocktail! is an excellent, eclectic anthology of stories, a perfect book to read now that the cold autumn weather is starting to chill the OWS protesters. The struggle continues . . . so get your grind on!" —www.tor.com (November 2011)
"The 18 mostly original stories in this thought-provoking crime anthology offer gritty testament to the violence, cunning, and resilience of people pushed to the brink." —
Publishers Weekly
(November 27, 2011)
"There are some real gems between its covers. Major names from not only the crime beat, but also the sci-fi and fantasy genres, make worthwhile contributions to the set, including names like Cory Doctorow, Sara Paretsky, and Kim Stanley Robinson." —San Francisco Book Review (April 2012)
"The stories in Send My Love may riff on radical and revolutionary themes, but they are more entertaining than instructive." —Briarpatch Magazine
"Send My Love and a Molotov Cocktail! will interest readers of both the science fiction and mystery genres. Editors Gary Phillips and Andrea Gibbons have put together an interesting mix of pulp, hard-boiled and noirish mysteries along with several science fiction stories, many with a decidedly political bent." —www.SFRevu.com