The Wrong Thing (Switchblade) (Paperback)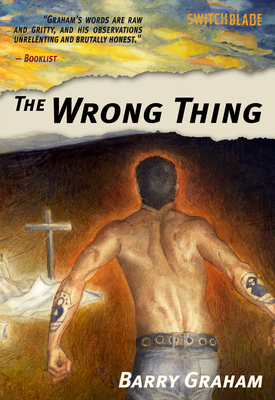 $14.95
It's complicated, and may be unavailable. Place an order and we will contact you with the expected arrival date.
Description
---
A dark Latino legend of the Southwest's urban badlands, the kid is spoken of in whispers in dive bars near closing time. Some claim to have met him, and others say he doesn't exist—a phantom blamed for every unsolved act of violence, a ghost who haunts every blood-splattered crime scene. In reality, he is young man with a love of cooking and reading, an abiding loneliness, and an appetite for violence. He is a projection of the dreams and nightmares of the people ignored by Phoenix's economic boom and a contemporary outlaw in search of an ordinary life. Love brings him the chance to start anew with Vanjii, a beautiful, but damaged woman, but try as he might to abandon the past, it won't abandon him. Fighting back in the only way he knows sets in motion a tragic sequence of events that leads to an explosive conclusion shocking in both its brutality and tenderness.
About the Author
---
Barry Graham is a Zen monk and an award-winning, internationally acclaimed author and journalist. He has written for a wide variety of magazines and newspapers, including Harper's, and his works include Before, The Book of Man, and Get Out as Early as You Can. He lives in Phoenix, Arizona.
Praise For…
---
"Graham's words are raw and gritty, and his observations unrelenting and brutally honest." —Booklist
"This is strong material wrapped in the cloth of truth. Obviously Graham knows this world well and it shows." —Steve Shadow Schwarts, www.PoisonedFiction.blogspot.com
"Otherwise unnamed, Graham's Hispanic noir protagonist has his short, violent life dissected like a frog on a breadboard. Spanning the Kid's life from his barrio origins to his inevitable end, Graham builds a razor-sharp character study of a knife-wielding sociopath." —www.BooklistOnline.com (November 2011)
"As Graham presents it, immaturity, desperation and flat-out fear can drive someone to do the unthinkable—and no amount of magical reader thinking can undo the effects of a soulless, violent society." —Tucson Weekly (March 2012)