Franklin Barbecue: A Meat-Smoking Manifesto [A Cookbook] (Hardcover)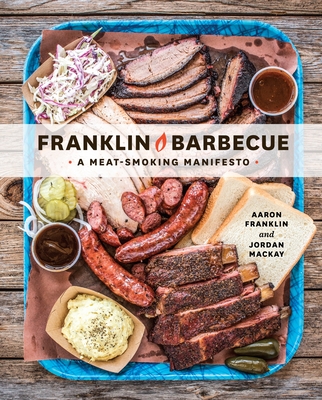 Staff Reviews
---
Joe: "I've known Aaron and Stacy Franklin for going on 15 years now, dating from our time amongst Austin's punk rock community. I've also been lucky enough to go to one of the many cook-outs the Franklin's held at their house where Aaron slowly perfected his cooking techniques. I say this not to drop names or anything but to share with you just how happy I am with the successes the Franklins have achieved and how stoked I am that Aaron's got this brand new book coming out, one that has moved to the top of my reading list. We're a community here in Austin and we love our DIY and this book manages to bring the ideals of punk rock to the smokers of BBQ. Nothing makes this kid happier."
— From
What to Read in 2015
Description
---
New York Times Bestseller • A complete meat and brisket-cooking education from the country's most celebrated pitmaster and owner of the wildly popular Austin restaurant Franklin Barbecue.

When Aaron Franklin and his wife, Stacy, opened up a small barbecue trailer on the side of an Austin, Texas, interstate in 2009, they had no idea what they'd gotten themselves into. Today, Franklin Barbecue has grown into the most popular, critically lauded, and obsessed-over barbecue joint in the country (if not the world)—and Franklin is the winner of every major barbecue award there is.
 
In this much-anticipated debut, Franklin and coauthor Jordan Mackay unlock the secrets behind truly great barbecue, and share years' worth of hard-won knowledge. Franklin Barbecue is a definitive resource for the backyard pitmaster, with chapters dedicated to building or customizing your own smoker; finding and curing the right wood; creating and tending perfect fires; sourcing top-quality meat; and of course, cooking mind-blowing, ridiculously delicious barbecue, better than you ever thought possible.
About the Author
---
AARON FRANKLIN is a native of Bryan, Texas, and the co-owner and co-founder (along with his wife, Stacy) of Franklin Barbecue. Franklin Barbecue opened its doors in 2009, and has since gone on to win many awards, including "Best Barbecue in Texas" from Texas Monthly and "Best Barbecue in America" from Bon Appétit. Franklin is also the host of the PBS series BBQ with Franklin. He and Stacy live in Austin with their daughter, Vivian.

JORDAN MACKAY is the wine and spirits critic for San Francisco magazine, and the coauthor of the James Beard Award–winning Secrets of the Sommeliers. He lives in San Francisco.
Praise For…
---
"Aaron Franklin makes the finest barbecue I've ever had, barbecue worth waiting for. His work and his words express a truly rare level of commitment and expertise. With Franklin Barbecue, he shares it all—in a book that, fortunately, you don't have to wait for."
—Anthony Bourdain 

"I used to think Aaron Franklin was a genius: There was his rise from backyard dabbler to king of Texas pitmasters; his mind-altering brisket that made normally rational people (myself included) wait hours for the chance to eat it; and his insistence that game-changing barbecue doesn't come from miracles but rather elbow grease. Then he wrote this book and gave all his secrets away. Now everyone—from me to you to your neighbor who can't grill a chicken breast—will be able to make award-winning barbecue. He's not a genius anymore; he's a god." 
—Andrew Knowlton, restaurant and drinks editor, Bon Appétit

"The most refreshing barbecue book to come along yet. Rather than preaching about 'one true way,' Aaron Franklin guides you through all the wood and smoke so that you can find your own style. And instead of just listing ingredients and rattling off generic recipes, these pages tell the story of a place and a barbecue tradition steeped in history. This isn't just a book about barbecue;
this book is Central Texas barbecue." 
—Daniel Vaughn, barbecue editor, Texas Monthly, and author of The Prophets of Smoked Meat

 "Pure genius! Aaron Franklin has distilled years' worth of barbecue knowledge into this book. In it, he exposes the sacred insights of a top pitmaster—information that can otherwise only be learned from long nights spent staring at a fire, shovel in hand, constantly prodding and pinching your meat to figure out that 'just perfect' point of doneness. This book is a game changer: read it, and your barbecue will improve overnight!"
—Adam Perry Lang, chef, restaurateur, and author of Serious Barbecue

"A complete meat-and brisket-cooking education from the country's most celebrated pitmaster. More than just a recipe book, this is a master course in the fine art of meat smoking, Texas-style."
—Library Journal