Books On Our Site May Not Be Available In-Store
Is This Book In Stock? Be Savvy! Check availability details beneath the blue "Add to Cart" button.
Will Eisner: A Dreamer's Life in Comics (Hardcover)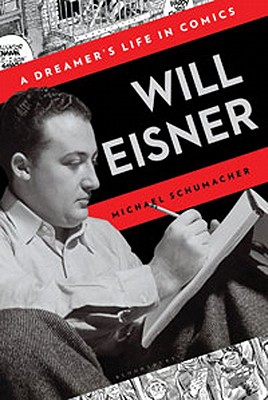 $28.00
It's complicated. Place an order and we will contact you with the expected arrival date.
Description
---
In Will Eisner: A Dreamer's Life in Comics, Michael Schumacher delves beneath Eisner's public persona to draw connections between his life and his art. Eisner's career spanned a remarkable eight decades, from his scrappy survival at the dawn of comics' Golden Age in the late 1930s to the beginning of the twenty-first century, when Pulitzers began going to graphic novels (a term Eisner is widely credited with creating). Schumacher's extensive research and interviews with Eisner's family, friends, and colleagues, as well as other comics creators who have built upon his work, create a detailed portrait of Eisner the man and Eisner the artist.
About the Author
---
Michael Schumacher is the author of ten books, including "Family Business," """Fran""cis Ford Coppola," " There but for Fortune, ""Crossroads," " Dharma Lion," " Mr. Basketball, "and, most recently, " The Wreck of the Carl D."
Praise For…
---
"Fifty, sixty years ago, Will Eisner was an oddity and a weirdo. In a world of people who were writing or drawing comics until they could find more respectable work, who lied to their friends about what they did, people who couldn't wait to get out and make real money, make real art, Will was one of the few people convinced that this nascent mixture of words and pictures really was an art form. Other people believed it was about the quick buck. Will was certain, against much of the available evidence, that there could be well-written comics, well-drawn comics, and that the strange magic of comics that comes from combining sequential pictures and words into a story was really something powerful and unique and true."—Neil Gaiman, author of the Sandman series
"From the first superheroes—including his iconic Spirit—to the most revered modern literary graphic novels, Will Eisner was not only there—he virtually started it all. In Will Eisner: A Dreamer's Life in Comics, Michael Schumacher insightfully and entertainingly weaves Eisner's personal and professional history with that of America and pop culture in general, and thereby makes a great contribution to our understanding of the whole megilla."—Danny Fingeroth, author of Disguised as Clark Kent: Jews, Comics, and the Creation of the Superhero
"With A Contract with God, Eisner was a man in complete command. With that one book, he changed the way everybody thought about comics. He went straight at the artists with it. All of a sudden we changed our outlook: I saw my work and comic book work as something that would stay alive instead of being an ephemeral, month-to-month event."—Frank Miller
"Will Eisner was to comics what Babe Ruth was to baseball. Not only a fantastic artist and designer but a brilliant story teller as well, he helped transform the image of the once-lowly comic book into today's widely respected medium of sequential art."—Stan Lee
"Demonstrates Schumacher's intense passion for, and deep knowledge of, his subject…Engaging for both the curious and the ardent fan." – Kirkus Reviews