Austin City Limits: A Monument to Music (Hardcover)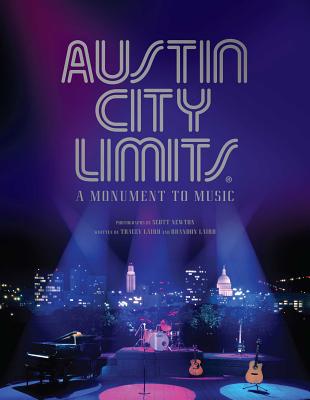 Description
---
Honored as a "historic rock and roll landmark" by the Rock and Roll Hall of Fame and Museum, Austin City Limits is the longest-running popular music series in American television history. ACL began in 1974 by featuring original Texas music that ran the gamut from Western swing and Texas blues to Tejano, progressive country, and rock and roll. Now the show is celebrating its fortieth anniversary, and its coverage has expanded to encompass unique regional, national, and international performers in an eclectic range of genres. Additionally, the ACL brand includes the annual Austin City Limits Music Festival, a three-day extravaganza that spotlights some 150 bands and attracts more than 200,000 fans. This book spans ACL's first 40 years, with special emphasis on legendary artists, such as Johnny Cash, Ray Charles, Leonard Cohen, and Willie Nelson, and the most compelling contemporary performers and bands from the past two decades, including Coldplay, John Mayer, Elvis Costello, Pearl Jam, David Bryne, the Flaming Lips, Wilco, Lucinda Williams, and Norah Jones. The best of the best, Austin City Limits: Forty Years of Legendary Music showcases some of the most brilliant, mesmerizing, quirky, esoteric, and unforgettable performances on any stage in the past 40 years.
About the Author
---
Tracey Laird is the author of Austin City Limits: A History (Oxford University Press, October 2014). In addition, she wrote Louisiana Hayride: Radio and Roots Music Along the Red River (Oxford University Press, 2005) and co-edited (with Kip Lornell) Shreveport Sounds in Black and White (University Press of Mississippi, 2008). She chairs the music department at Agnes Scott College and teaches courses that explore music from many different angles. She lives in Atlanta.

Scott Newton has been the house photographer for Austin City Limits since 1979. His work has been published on numerous album covers and in many magazines and books, including Austin City Limits: 25 Years of American Music and The Improbable Rise of Redneck Rock. He lives in Austin, TX.