Quiet: The Power of Introverts in a World That Can't Stop Talking (Large Print / Hardcover, Large Print)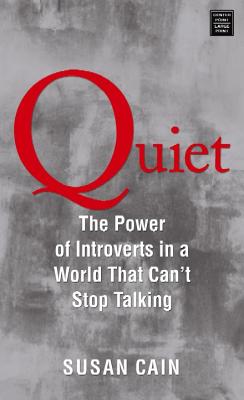 This item is not available for sale on this site.
Staff Reviews
---
This book is about YOU! Whether you are reserved and introverted or you know someone who is, this book will change your perspective on life.
— Cindy K
"It's about introverts and how they have have to deal with an extremely
extrovert-centric society. The book explains there are benefits to being
quiet instead of just talking all the time. Cain backs up a lot of what
she has to say with some serious research conducted over the last 30-40
years specifically focusing on personalities. The conclusion is, of
course, that both have their advantages, however the book makes the more
important point that one personality type shouldn't have to outshine
the others. I'm an introvert, and the book helped me really understand
how to work with my environment. It gives a great example about how a
lot of businesses are going to the mostly open-office environment and
even schools are beginning to adopt that policy. As the book points out,
the research shows that having that extroverted office environment
doesn't necessarily increase productivity. Those environments are
usually dominated by those who are okay with throwing around ideas out
loud. So, it can be very stifling. I experienced that in college. But,
there are examples like Google: a company attempting to integrate both 
alone areas to collect your thoughts and recharge as well as open areas
for collaborative thinking."
— Meredith
February 2012 Indie Next List
---
"This is a wonderfully important book which just may help the human race survive and thrive. In a clear and readable style, combining emerging science and sociological perspective as well as deep empathy and intelligence, Cain does a superb job of making us think. Readers will recognize behaviors at both ends of the introvert/extrovert personality spectrum as well as everything in between and will feel empowered to find their own comfort level for living."
— Karen Frank, Northshire Bookstore, Manchester Center, VT