Books On Our Site May Not Be Available In-Store
Is This Book In Stock? Be Savvy! Check availability details beneath the blue "Add to Cart" button.
Death in Breslau: An Inspector Mock Investigation (Paperback)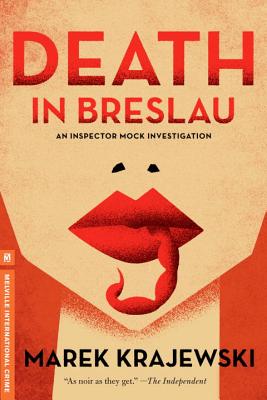 Description
---
Introducing one of the most stylish and moody historic detective series ever: The Inspector Eberhard Mock Quartet

Occupied Breslau, 1933: Two young women are found murdered on a train, scorpions writhing on their bodies, an indecipherable note in an apparently oriental language nearby ...Police Inspector Eberhard Mock's weekly assignation with two ladies of the night is interrupted as he is called to investigate.

But uncovering the truth is no straightforward matter in Breslau. The city is in the grip of the Gestapo, and has become a place where spies are everywhere, corrupt ministers torture confessions from Jewish merchants, and Freemasons guard their secrets with blackmail and violence.

And as Mock and his young assistant Herbert Anwaldt plunge into the city's squalid underbelly the case takes on a dark twist of the occult when the mysterious note seems to indicate a ritual killing with roots in the Crusades ...
About the Author
---
MAREK KRAJEWSKI was born in Wroclaw (formerly Breslau), Poland, on September 4, 1966. He is the author of five novels in the Breslau series, which have been translated into fourteen languages and won Poland's top literary and crime prizes. Krajewski is a former lecturer in Classical Studies at the University of Wroclaw.

DANUSIA STOK is the translator of the Inspector Mock series, Death in Breslau, as well as The Last Wish by Andrzej Sapkowsi.
Praise For…
---
"Marek Krajewski goes far beyond the police procedural in a novel that confronts the infinitely more terrible crimes to come." —The Barnes & Noble Review from the Editors' Picks for Best Fiction of 2012

"This intelligent, atmospheric crime novel, which flashes forward to such events as the 1945 Dresden firebombing and the beginnings of the cold war, possesses a distinctly European, Kafkaesque sensibility."—Publishers Weekly (starred review)

"As noir as they get. This complex and atmospheric thriller will find many fans, who will eagerly await the rest of Krajewski's Breslau quartet." —The Independent

It ought to be inappropriate to enjoy reading about Nazis this much. But fascists make good foils... Characters who survived under such predatory conditions had to possess a cunning and guile."—The Boston Globe

"It promises to be a great quartet."—Globe and Mail

"Krajewski's wonderfully laconic style and his painterly descriptions of place and character tether even the most overwrought scenes to a palpable reality." — B&N Review

"Krajewski's thriller...will intrigue and compel readers to its end." —New York Daily News

"Atmosphere and piquant period detail saturate the pages, and push these books into the upper echelons of literary crime ... Krajewski's lacerating narrative performs the key function of the skilful novelist: providing an entree into a world far from our own." —The Times

"Krajewski has Mankell's sharp eye for detail, but he has, too, a more sophisticated frame of reference that may intrigue fans of Umberto Eco and Boris Akunin...Death In Breslau is a stylish, intelligent and original addition to the canon." —Financial Times

"Reminiscent of Georg Grosz...Death In Breslau isn't just an exciting mystery, it's the story of lost Fatherland...wonderful." —The Guardian

"The city of Breslau is as much a character in this thriller as the parade of gothic loons that inhabit it...This addictive soup has an air of the burlesque about it." —The Daily Telegraph

"Krajewski relishes the period detail as takes us from bloody interrogation cells to Madame LeGoef's sweaty bordello ... above all you get the sense that Krajewski is enjoying teasing and tormenting us with numerous examples of the violent coming together of eroticism and the body-politic. In this respect, Death in Breslau is strongly reminiscent of Alain Robbe-Grillet's Repetition... What's haunting about Krajewski's book, however, is that the worst was yet to come." —Independent on Sunday

"Atmospheric and uncompromising, it is noir with its dark underbelly fully exposed" —Criminal Element