GB84: A Novel (Paperback)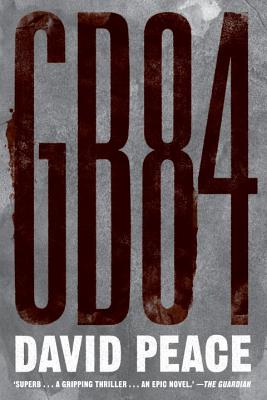 $16.95
It's complicated, and may be unavailable. Place an order and we will contact you with the expected arrival date.
Description
---
Never before published in the U.S., GB84 will be launched in 2014 alongside two other novels by David Peace: The Damned Utd and Red or Dead

In taut and gripping prose that often feels like the relentless text of a surveillance report, GB84 tells the story of the British coal miner's strike of 1984—including the actual bombings, riots and protests that brought the country to the brink of civil war.

Called by its author "fiction based on fact," the book depicts a real-life 1984 more violently dystopian than even Orwell imagined. Slowly starving strikers find themselves pitted against a prime minister—Margaret Thatcher—determined to crush them . . . a police force willing to use infiltration and violence to achieve her will . . . and equally hungry scabs who need a job . . .

Mixing real events and characters with the voices of the increasingly desperate strikers, the book becomes a stirring saga of courage against overwhelmingly sinister forces, and paints a searing and haunting portrait of events that changed the course of British history.
About the Author
---
David Peace – named in 2003 as one of Granta's Best of Young Novelists – is the acclaimed author of the Red Riding Quartet (1974, 1977, 1980, and 1983), which was adapted into a BBC television series that was released theatrically in the United States, and is currently being adapted into a major motion picture directed by Ridley Scott. Peace is also the author of the highly praised Tokyo Trilogy, which so far includes Tokyo Year Zero and Occupied City. His book GB84 was awarded the James Tait Black Memorial Prize, and The Damned Utd was called "probably the best novel ever written about sport" by The Times (UK). His newest book, Red or Dead, was shortlisted for the UK's prestigious Goldsmith's Prize.
Praise For…
---
"It's history as noir in the style of James Ellroy, political and compelling."
—Brooklyn Magazine, Eight Books to Read in November

"Peace is known more for his Red Riding Quartet, but, to my mind, this retronymic dystopia is his best book. Originally released in 2004 — twenty years, obviously, after 1984 — and set in Thatcherite England, the novel is an epic political hothouse and construction of genius that is, if anything, grossly underrated."
—Flavorwire, 50 Best Independent Fiction and Poetry Books of 2014

"This is a big book about one of the most important struggles in British history... As a novelistic rendering of history, GB84 is first rate."
—Barnes & Noble Review

"A behemoth of British fiction."
—Flavorwire, Must-Reads for November 2014

"A curious, intense, formally innovative thriller from the Herman Melville of soccer fiction."
—WORD Bookstores, Books of the Week, on Largehearted Boy

"Profoundly moving."
—Bookslut

"Haunting, seminal, bleak, iconic, furied... It's a necessary novel, vital even."
—The Observer

"A conspiracy thriller laced with apocalyptic poetry."
—The Independent

"The writing is clever, terse, incisive... This mammoth conspiracy tale is a thriller daubed with horror."
—The Scotsman

"Superb... [Peace] has turned the whole episode into a gripping thriller, with no detriment to documentary realis... GB84 is a bold mixture of thriller, monologue, theatre script, chants, slogans, crime story, sexual subplot and documentary fiction... This is an epic novel...a crowded, ambitious, quick-moving novel, and as such is the literary equal of the epic events it commemorates."
—The Guardian

"A violently original novel."
—The Times

"Exhilarating... Compelling."
—Times Literary Supplement

"The book is so compelling... Peace's terse, urgent sentences are perfectly suited to depicting a large-scale confrontation. The tactics and resources of both sides, their histories, their mindsets, the likely battlefields—all are vividly laid out in little more than a few paragraphs. Alliteration and repetition establish a marching rhythm like massing pickets or policemen... Only a rare political novel manages that."
—London Review of Books

November Picks, Entomology of a Bookworm