Rules for Werewolves (Hardcover)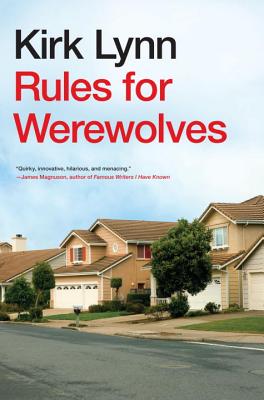 Staff Reviews
---
"This novel is funny, dark, weird and addictive. I love the way the group dialogue merges the characters' voices and becomes a chorus; the rhythm in these sections in particular is spot on. I thought this was a unique, engaging way to tell a story and a fresh way of looking at American culture, youth and class. At turns I was reminded of Christopher Moore and Chuck Palahniuk, but really, Kirk's voice is all his own."
— Julie W.
Description
---
In the tradition of Colson Whitehead's Zone One, a visionary debut novel about shelter, escape, family, violence, and dumpster-diving It's the story of a restless group of young squatters. They've run away from their families and their pasts, questing after knowledge of their most wild selves, roaming the half-empty suburbs of America, occupying the homes of the foreclosed or vacationing, never staying in one place long enough to attract attention, while shoplifting beer at the local Speedy Stop. They're building a new society with new laws, and no one will stand in their way. But utopias are hard work, and as Rules for Werewolves unfolds, these young revolutionaries discover that it's much easier to break laws than to enforce them. Narrated in the shifting perspectives of the pack, Rules for Werewolves follows a community of drifters on the move, who seek a life in a wilderness that, by definition, has no room for them, and a freedom for which they may not be entirely prepared. Kirk Lynn's debut novel is a hilarious and deeply moving story of people trying--and failing--to create a new life. At once a fractured fairy tale and a haunting vision of American disaffection, Rules for Werewolves marks the arrival of a fierce new talent.
About the Author
---
KIRK LYNN is one of six coproducing artistic directors of Rude Mechs theater collective. He is the head of the Playwriting and Directing Area in the Department of Theatre and Dance at the University of Texas at Austin, and received his MFA from the Michener Center for Writers. Lynn lives in Austin, Texas, with his wife, the poet Carrie Fountain, and their children.