Books On Our Site May Not Be Available In-Store
Is This Book In Stock? Be Savvy! Check availability details beneath the blue "Add to Cart" button.
Nightmare Range: The Collected George Sueno & Ernie Bascom Stories (Hardcover)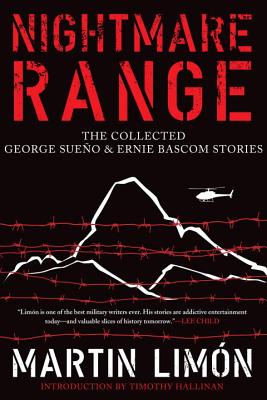 Staff Reviews
---
A collection of all the stories featuring Sueno and Bascome, two CID
cops in '70s Korea. Great procedural story telling with a strong sense
of mood and place. Read as a collection you get the sense of futility
our heroes face in doing their job and the right thing.
— Scott M
Description
---
Twenty years ago, Martin Limon published his first mystery story featuring Sergeant George Sueno, a young Mexican American army detective stationed on the US 8th Army base in South Korea in the early 1970s, the heart of the Cold War. George and his investigating partner, the rowdy and short-fused Sergeant Ernie Bascom, are assigned cases in which the 8th Army has come into conflict with local Korean law enforcement often incidents in which American soldiers, who are not known for being on their best behavior in their Asian host country, have committed a crime. George Sueno's job is partially to solve crimes, but mostly to cover top brass's backside and make sure the US Army doesn't look bad. Thoughtful, observant George, who is conversant in Korean, constantly faces difficult choices about whether to follow his orders or his conscience.
Nine critically acclaimed novels later, Soho Crime is releasing a collection of Martin Limon's award-winning short stories featuring Sergeants Sueno and Bascom. The stories within have been published over the last twenty years in a variety of magazines, mostly in Alfred Hitchcock, but have never before been available in book form. This beautifully produced limited-edition hardcover volume is sure to attract both critical attention and to appeal to collectors. A must-have for literary mystery readers.
About the Author
---
Martin Limonretired from military service after twenty years in the US Army, including ten years in Korea. He is the author of numerous books in the Sueno and Bascom series, including theNew York TimesNotableJade Lady Burning, Slicky Boys, The Iron Sickle, Nightmare Range, andThe Ville Rat. He lives near Seattle. From the Trade Paperback edition."
Praise For…
---
Praise for Nightmare Range: The Collected George Sueño & Ernie Bascom Stories

"Limón has proven himself to be a sensitive observer of the darker angels of human nature and a skilled weaver of mystery. He's also one of the main producers of fiction about the region, and he writes from experience, having served 20 years in the U.S. Army, 10 of them in Korea... It's Limón's intimate knowledge of his source material, from the brothels and bars to the vicissitudes of the local police forces, that make this collection worth reading. "The war had been over for twenty years," Limón writes, "but still it lingered: a big dumb ghost that refused to go away." The ghost here lingers not only over the fortifications of the DMZ, but also the tormented souls of those charged with maintaining it."
—NPR

"In the 17 stories in this strong collection from Limón, 8th Army Criminal Investigation Division detectives George Sueño and Ernie Bascom often deal with prostitutes, swindlers, and black marketers who pop up wherever naïve soldiers and American relative wealth intersect with Korean poverty and political desperation."
—Publishers Weekly

"Limon, who was stationed in Korea for the Army, writes with empathy for the Korean people as well for the young GIs dropped into a foreign culture."
—Boston Globe

"Limón's strengths are the muscular immediacy of his prose, the gritty righteousness of his heroes and the vivid depiction of the complex subculture that they troll. The more streamlined plots of his short stories make these elements more prominent. This is the rare collection whose whole is greater than the sum of its parts."
—Kirkus, STARRED REVIEW

"Limón is one of the best military writers ever. His stories are addictive entertainment today—and valuable slices of history tomorrow."
—Lee Child

"Snap up this volume immediately. All 17 stories have been published over two decades (dating back to 1993), and they provide a superb introduction to Limón's stellar series. Limón effectively stirs compassion into his military procedurals and never loses sight of his characters' humanity."
—Library Journal, STARRED REVIEW

"Martin Limón hasn't just written engrossing novels about George Sueño and Ernie Bascom, Army detectives stationed in Korea in the 1970s. He also produces a healthy dose of short stories about them, now gathered in Nightmare Range... The 17 stories in this collection profit from the author's deep knowledge of his subject matter."
—The Seattle Times

"A Mexican-American from East L.A., Sueño is partnered with Ernie Bascom, from the suburbs of Detroit. The two characters differ in more than background. Tasked with both solving crimes and keeping the Army's image intact, Sueño struggles with his conscience as he works on cases involving American servicemen who have run afoul of Korean law enforcement. Victims sometimes get lost in the shuffle to bring about a resolution that keeps the Army brass and Korean officials happy. Bascom has no such qualms."
—Houston Press

"Nightmare Range is not for the sentimental. The good guys don't always win, and the victims don't always get justice. In that sense, Limón is very Korean and all the better for it."
—Asian Review of Books

"[One] of the finest single-author collections of recent years... Anyone who served with American forces in Asia in the 1960s or 1970s can attest to the authenticity of this remarkable procedural series."
—Ellery Queen Mystery Magazine

"Having served in Korea himself, Martin Limon is very familiar with the setting and issues that are at the core of this unusual series. He gives the modern police procedural an interesting slant with these two unforgettable protagonists."
—BookLoons

"Nightnmare Range is a terrific collection…. These tales are part war story and part historical mystery, but all good from beginning to end. If you are unfamiliar with Limon's work, this is an excellent introduction to an author whose books you should be reading."
—Book Reporter

"Tough stories, but well told and absorbing."
—Historical Novel Society

"Martin Limón gets the U.S. Army right on every page: the language, the details of assignment and training, the subtle differences of rank, the drinking and gambling, all of it. If you are tired of authors who just don't seem to know what Army life is all about, and you have yet to read the works of Limón, wait no longer. Martin Limón ranks right at the top, along with James Jones."
—The Veteran

"[Limon's] stories are uniformly excellent.... The actions depicted here will stay with the reader long after the book is closed.
—Deadly Pleasures

"Informed by Limón's 10 years of army service in Korea... Each story offers some striking insight about Korea, the decades-long hangover of war and tense cease-fire, or the U.S. Army and its culture."
—Booklist

"Utterly realistic."
—Unshelved

Praise for Martin Limón's Sergeant George Sueño Series

"Limón is an expert guide to Korea and the U.S. army whose passionate commitment to his subject is expressed in direct, searing prose."
—John Burdett, New York Times bestselling author of Bangkok 8
 
"[Combines] the grim routine of a modern police procedural with the cliff-hanging action of a thriller movie."
—Wall Street Journal
 
"[W]hat a great gift any of Limon's six mysteries starring Army Sgts. George Sueno and Ernie Bascom would make for those mystery lovers who haven't yet discovered them! ... Imbued with affecting characters, a morally knotty storyline, and a last chapter that just plain stuns."
—Maureen Corrigan, NPR

"Nobody navigates the barely controlled chaos of Seoul's red light district like these two--or the byzantine ways of Army bureaucracy, for that matter. Limón's empathy for Korean culture, meanwhile, makes him and excellent guide."
—Seattle Times

"Excellent.... A vivid view of Asia, from the Demilitarized Zone to the Yellow Sea, and an insightful look at the era."
—Publishers Weekly, Starred Review