The Plot Against Hip Hop (A D Hunter Mystery) (Paperback)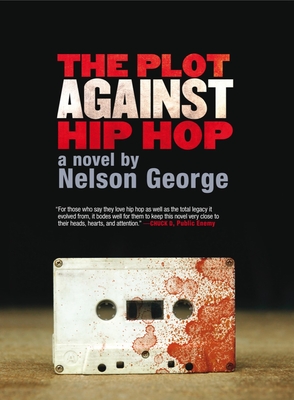 $15.95
Out of Stock; Usually Arrives in 2-5 Days
Description
---
Finalist for the 2012 NAACP Image Award in Literature
"George is an ace at interlacing the real dramas of the world...the book's slim length and flyweight depth could make it an artifact of this particular zeitgeist in American history. Playas and haters and celebrity cameos fuel a novel that is wickedly entertaining while being frozen in time."
--Kirkus Reviews
"This hard-boiled tale is jazzed up with authentic street slang and name-dropping (Biggie, Mary J. Blige, Lil Wayne, and Chuck D)...George's tightly packaged mystery pivots on a believable conspiracy...and his street cred shines in his descriptions of Harlem and Brownsville's mean streets."
--Library Journal
"George is a well-known, respected hip-hop chronicler...Now he adds crime fiction to his resume with a carefully plotted crime novel peopled by believable characters and real-life hip-hop personalities."
--Booklist
"George's prose sparkles with an effortless humanity, bringing his characters to life in a way that seems true and beautiful. The story--and the conspiracy behind it--is one we all need to hear as consumers and creators in the post-hardcore hip-hop world."
--Shelf Awareness
"Part procedural murder mystery, part conspiracy-theory manifesto, Nelson George's The Plot Against Hip Hop reads like the PTSD fever dream of a renegade who's done several tours of duty in the trenches...Plot's combination of record-biz knowledge and ghetto fabulosity could have been written only by venerable music journalist Nelson George, who knows his hip-hop history...The writing is as New York as 'Empire State of Mind, ' and D is a detective compelling enough to anchor a series."
--Time Out New York
"A breakbeat detective story...George invents as much as he curates, as outlandish conspiracy theories clash with real-life figures. But what makes the book such a fascinating read is its simultaneous strict adherence to hip-hop's archetypes and tropes while candidly acknowledging the absurdity of the music's current big-business era. There's a late-capitalism logic at work here. If this book had been written in the early '90s, it would have been about the insurgent artistry of hip-hop musicians and the social-justice strides the genre was effecting. Today, it's a procedural about the death of principles."
--Time Out Chicago
"Like good hip hop, there is social commentary and a blurring of the lines between great storytelling and all-to-real happenings. The Plot Against Hip Hop reads almost like Thomas Pynchon's Inherent Vice, but in the world of rap music. Brilliant prose, vast conspiracy, (at times) borderline trippy narrative. If you love crime fiction and you love hip hop, this book is a must read."
--BookRiot
"The Plot Against Hip Hop is a quick-moving murder mystery that educates its audience on Hip Hop's pioneer generation along the way...it is a nostalgic look at a magical and manic moment in time."
--New York Journal of Books
"George very masterfully has created a novel that informs as well as entertains."
--Huffington Post
The Plot Against Hip Hop is a noir novel set in the world of hip hop culture. The stabbing murder of esteemed music critic Dwayne Robinson in a Soho office building is dismissed by the NYPD as a gang initiation. But his old friend, bodyguard and security expert D Hunter, suspects there are larger forces at work.
D Hunter's investigation into his mentor's murder leads into a parallel history of hip hop, a place where renegade government agents, behind-the-scenes power brokers, and paranoid journalists know a truth that only a few hardcore fans suspect. This rewrite of hip hop history mixes real-life figures with characters pulled from the culture's hidden world, including Jay-Z, Kanye West, and Russell Simmons.
About the Author
---
NELSON GEORGE is an author, filmmaker, and lifelong resident of Brooklyn. His books include the first three novels in his D Hunter mystery series, The Accidental Hunter, The Plot Against Hip Hop, and The Lost Treasures of R&B. Among his many nonfiction works are The Death of Rhythm & Blues, Hip Hop America, and The Hippest Trip in America: Soul Train and the Evolution of Culture & Style. As a filmmaker he has directed the documentaries Brooklyn Boheme, Finding the Funk, and A Ballerina's Tale. He is also a writer/producer on the Netflix series The Get Down. To Funk and Die in LA is his latest novel.
Praise For…
---
"George's prose sparkles with an effortless humanity, bringing his characters to life in a way that seems true and beautiful. The story -- and the conspiracy behind it -- is one we all need to hear as consumers and creators in the post-hardcore hip-hop world."
--Shelf Awareness

"Part procedural murder mystery, part conspiracy-theory manifesto, Nelson George's The Plot Against Hip Hop reads like the PTSD fever dream of a renegade who's done several tours of duty in the trenches . . . Plot's combination of record-biz knowledge and ghetto fabulosity could have been written only by venerable music journalist Nelson George, who knows his hip-hop history . . . The writing is as New York as 'Empire State of Mind,' and D is a detective compelling enough to anchor a series."
--Time Out New York

"The Plot Against Hip Hop is a quick-moving murder mystery that educates its audience on Hip Hop's pioneer generation along the way . . . it is a nostalgic look at a magical and manic moment in time."
--New York Journal of Books

"George very masterfully has created a novel that informs as well as entertains."
--Huffington Post

"Nelson George comes from an older generation that still remembers Hip Hop as the vital and dangerous voice it once was. This feeling for the past carries throughout the novel, and manages to convey the weight and importance of this profound shift in values without being nostalgic . . . The Plot Against Hip Hop is a fine piece of 'edutainment' -- both exciting and thought provoking . . . it's great to finally have a novel about Hip Hop written by one of it's original documentary journalists."
--ABORT Magazine