Books On Our Site May Not Be Available In-Store
Is This Book In Stock? Be Savvy! Check availability details beneath the blue "Add to Cart" button.
A Thousand Falling Crows (Paperback)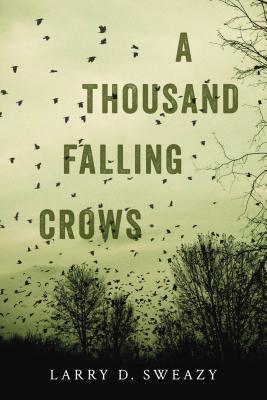 $15.95
Out of Stock; Usually Arrives in 2-5 Days
Description
---
Sonny Burton was forced to retire from the Texas Rangers after taking a bullet from Bonnie Parker in a shoot-out. The bullet so damaged Sonny's right arm that he had to have it amputated. While Sonny struggles with recuperating and tries to get used to the idea of living a life with only one arm, Aldo Hernandez, the hospital's janitor, asks Sonny to help find his daughter and bring her back home. She has got herself mixed up with a couple of brothers involved in a string of robberies. Sonny agrees to help, but is more concerned about a wholly different criminal in town who has taken to killing young women and leaving them in local fields for crows to feast on. Just as Sonny is able to track down Aldo's daughter, he comes to an uncomfortable realization about who might be responsible for the string of murders and races to nab the killer before another girl is left to the crows.
About the Author
---
Larry D. Sweazy is the author of See Also Murder, Vengeance at Sundown, The Gila Wars, The Coyote Tracker, The Devil's Bones, The Cougar's Prey, The Badger's Revenge, The Scorpion Trail, and The Rattlesnake Season. He won the WWA Spur award for Best Short Fiction in 2005 and for Best Paperback Original in 2013, and the 2011 and 2012 Will Rogers Medallion Award for Western Fiction for the Josiah Wolfe series. He was nominated for a Derringer award in 2007, and was a finalist in the Best Books of Indiana literary competition in 2010, and won in 2011 for The Scorpion Trail. He has published over sixty nonfiction articles and short stories, which have appeared in Ellery Queen's Mystery Magazine; The Adventure of the Missing Detective: And 25 of the Year's Finest Crime and Mystery Stories!; Boys' Life; Hardboiled; Amazon Shorts, and several other publications and anthologies. He is member of ITW (International Thriller Writers), WWA (Western Writers of America), and WF (Western Fictioneers).
Praise For…
---
"Sweazy's text is an absolute treat for the senses… The character of Sonny Burton will resonate with readers. His everyman struggles with change, loneliness, and relationships are appealing across both gender and generational lines."

—Foreword Reviews

"Sweazy vividly evokes the Great Depression and the Dust Bowl in this gritty historical. Sonny is an engaging, determined hero drawing on his Texas Ranger experience to find some measure of justice. Sure to attract fans of Westerns and readers who favor well-plotted mysteries with plenty of atmosphere."

—Library Journal STARRED REVIEW and MYSTERY OF THE MONTH
 
"Sweazy shows marked skill at incorporating the sere landscape of Dust Bowl–era north Texas, with its punishing sun and rattlesnakes creeping out of rabbit holes in the gloaming, as an independent character in A Thousand Falling Crows. His portrayal of Sonny Burton's struggle to rebuild his life in the wake of personal tragedy, and find new goals, new friendship with Blue and maybe even new love, is no less deft….It's not clear whether Sweazy has a sequel in mind. We can only hope he writes one. Soon."

—Kirkus Reviews

"A powerful, gripping novel of the American West. Parallel tales of murder and flight propel the reader across the harsh Texas plains, story lines exploding together at the end in a hail of dust, blood, and bullets. Gritty and deeply atmospheric, Sweazy has created one of the most fascinating leading characters in crime fiction. With the one-armed Sonny Burton at its helm, A Thousand Falling Crows crackles with menace, drama, and atmosphere."
 
—Mark Pryor, author of Hollow Man


"A richly atmospheric and powerfully intense historical thriller that brings to life the ethnic complexity and free-range lawlessness of Depression-era Texas. It reads like Bad Day at Black Rock crossed with Bonnie and Clyde. Larry D. Sweazy is always good, but this is his best book yet."
 
—David Bell, author of Somebody I Used to Know


"With a panoramic sweep of vision and language that borders on poetry, Sweazy brings to life a historic period in the Texas Panhandle, during the Depression and the days of the last outlaws—when America was trembling on the edge of the modern world."
 
—Terry Shames, Macavity Award–winning author of The Necessary Murder of Nonie Blake


"Atmospheric, bloody, engaging, engrossing mystery-thriller driven by believable characters. Larry D. Sweazy paints a grim picture of Depression-era Texas."
 
—Johnny D. Boggs, author of Northfield and Greasy Grass


"Larry Sweazy's new book begins with Texas Ranger Sonny Burton in a shootout with Bonnie and Clyde. The gunfight costs Burton an arm and sends him on a new journey. As a former Ranger, he has to deal not only with the loss of his arm but also with a serial killer, a couple of murdering young toughs, a reluctant runaway, a prickly son who's also a Ranger, and a host of other problems. And there are crows. Sweazy is a fine storyteller with an eye for detail and an ear for dialogue. A Thousand Falling Crows is a real winner that will have readers hoping it's the first of a new series."
 
—Bill Crider, author of the Sheriff Dan Rhodes series 


"A Thousand Falling Crows is a well-crafted mystery with fully developed characters, especially Sonny Burton, the former Texas Ranger with a rescue mission that might just save his own life as well. Author Sweazy dropped me into Depression-era Texas, a setting so authentic that I could almost feel the hot, dry sun beating down on me and the dust in my eyes. His skillfully crafted mystery kept me on the edge of my chair for hours. The first thing I wanted to do after finishing this hard-edged mystery was to go looking for anything else written by the talented author, Larry Sweazy. This man knows how to tell a story! I couldn't put A Thousand Falling Crows down for long—the characters stayed with me, refusing to let go, until I was able to finish the story and learn their fate."
 
—David Thurlo, coauthor of the critically acclaimed Ella Clah, Copper Canyon, and Charlie Henry mysteries