Hollow Man (Paperback)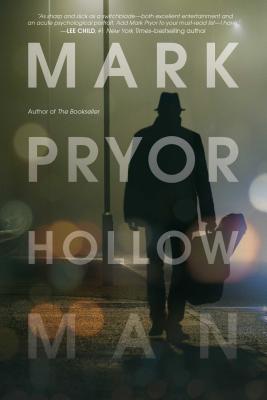 Staff Reviews
---
"Dominic gets involved in a robbery that turns into capital murder when two people are killed. Unlike his accomplices, Dominic will utilize his cool personality to weave a shimmering web of deceit and lies to ensure his survival because he is a master manipulator, a hollow man who considers empathy a weakness that is meant to be exploited. When the money goes missing, each of the conspirators fall prey to misgivings and doubt, leading to a conclusion that will see only one man come out on top. It takes a great writer to bring Dominic's character to life in such a vivid way, and Pryor delivers in spades. The plot is quick and full of twists that delight and surprise; a superior thriller from a talented author."
— Raul
Description
---
Fans of YOU on Netlfix will love Mark Pryor's Hollow Man.

"As sharp and slick as a switchblade—both excellent entertainment and an acute psychological portrait. Add Mark Pryor to your must-read list—I have." —LEE CHILD, #1 New York Times–bestselling author

Dominic is a prosecutor, a musician, and an Englishman living in Texas. He's also a psychopath. His main goal is to hide his condition and lead a seemingly normal life in hopes to pay off his debts and become a full-time musician in Austin's club scene. But on one lousy day his carefully-controlled world starts to shatter: he's demoted at work and accused of stealing a fellow musician's song. He also meets a beautiful woman in a lime green dress--perhaps the biggest threat to his safety of all. At her urging, Dominic hatches a plan to steal a van he knows will be filled with cash. He picks two friends as accomplices, insisting on no guns and no violence. But a security guard catches them in the act and simple theft turns into capital murder. Cracks start to show in the conspiracy and, with no allegiance to anyone but himself, Dominic has to decide whether to stick by his partners in crime, or let his true nature come out to play.
About the Author
---
Mark Pryor is the author of the Hugo Marston novels The Bookseller, The Crypt Thief, The Blood Promise, The Button Man, and The Reluctant Matador. and the true crime book As She Lay Sleeping. A native of Hertfordshire, England, he is an assistant district attorney in Austin, Texas, where he lives with his wife and three children.
Praise For…
---
"As sharp and slick as a switchblade—both excellent entertainment and an acute psychological portrait. Add Mark Pryor to your must-read list—I have."

—LEE CHILD, #1 New York Times–bestselling author

"Witty, nimble, and elegant, Mark Pryor's Hollow Man is both a sneaky, subversive delight and a deeply satisfying, classically constructed crime novel. A novel, and a writer, not to be missed."
 
—MEGAN ABBOTT, Edgar® Award–winning author of Dare Me and The Fever

"[Hollow Man's] Dominic is not your grandmother's psychopath. . . . This noirish twisty tale will appeal to those who enjoy Jeff Lindsay's Dexter series, Gillian Flynn's Gone Girl, and Pryor's own Sherlockian international thriller series starring Hugo Marston."

—BOOKLIST, STARRED REVIEW 

"Devilishly clever…  As the mishaps escalate for the conspirators, so does the suspense, culminating in a denouement worthy of the neo-noir film classic The Usual Suspects."

—PUBLISHERS WEEKLY, STARRED REVIEW

"An audacious stand-alone that dares the reader to sympathize with a coldblooded killer whose lack of empathy allows his cunning to run free."

—KIRKUS REVIEWS 

"Pryor's exquisite stand-alone is a gem. . . ."
           
―RT BOOK REVIEWS,  4 ½ stars (Fantastic—Keeper)

"Hollow Man is terrific Texas noir: chilling, dark, and deadly. A psychopathic prosecutor, a mysterious beauty, and a heist gone wrong combine for a gripping story that's damn entertaining."
 
—MEG GARDINER, Edgar Award–winning author of China Lake

Praise for Mark Pryor:

"Pryor is one of the best new voices in crime fiction. His books are at the top of my DON'T MISS list. If you haven't read Mark Pryor yet, start now!"

—DEBORAH CROMBIE, New York Times–bestselling author 

"Pryor is one of the smartest new writers on the block."

—PHILIP KERR 

Praise for the Hugo Marston novels:

"Enough intrigue to satisfy every reader" —RT Book Reviews

"Gritty, utterly real and filled with surprises both horrifying and tender.... Once you've had a bit, you can't wait for more." —OPRAH.com