Arab Jazz (Hardcover)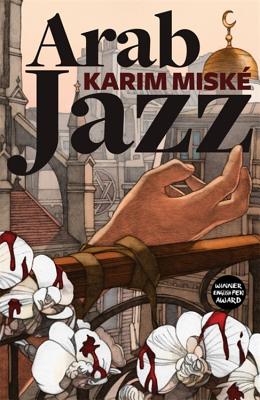 Description
---
Kosher sushi, kebab stands, a secondhand bookstore, and a bar: the 19th arrondissement in Paris has all the trappings of a cosmopolitan melting pot--a place where multiethnic citizens live, love, and worship alongside one another. But dark passions are brewing beneath the seemingly idyllic vision of peacefully coexisting ethnicities.
Ahmed Taroudant is an archetypal French Arab-non-observant, unable to reconcile his conflicting identities, and troubled by the past. A crime fiction connoisseur, Ahmed is engrossed in his latest book when he finds blood dripping from his upstairs neighbor's apartment. There, Laura Vignole is found brutally murdered, with a joint of pork placed near her body, prompting the obvious conclusion that the killer had religious motives. As the neighborhood erupts into speculation and gossip, Ahmed finds himself first among many suspects.
Detectives Rachel Kupferstein and Jean Hamelot attempt to untangle the complex web of events leading up to Laura's death, but truth is hard to come by, with each inhabitant--an Armenian anarchist, a Turkish kebab-shop owner, and a Hasidic Rastafarian--reluctant to reveal anything. Determined to clear his name, Ahmed joins the detectives as they investigate the connection between a disbanded hip-hop group and the fiery extremist preachers clamoring for attention in the streets. Meanwhile, an ecstasy variant called Godzwill is taking the district by storm.
In his debut novel, Karim Miské demonstrates a masterful control of setting, as he moves effortlessly between the sensual streets of Paris and the synagogues of New York to reveal the truth behind a horrifying crime.
About the Author
---
Born in 1964 in Abidjan to a Mauritanian father and a French mother, Karim Miské grew up in Paris before leaving to study journalism in Dakar. He now lives in France, and is making documentary films on a wide range of subjects, including deafness, for which he learned sign language, and the common roots between the Jewish and Islamic religions. Arab Jazz is the author's first novel.
Praise For…
---
"Intelligent and gripping."
—
Tariq Ali
"A brilliant debut."
—
Robin Yassin-Kassab, Guardian
"Exciting, informative, stimulating, and a little frightening."
—
Marcel Berlins,
The Times
"A debut of notable assurance ... proof that French crime fiction is jostling its way to the top of the noir tree."
—
Barry Forshaw,
Independent
"Miské's imaginative geography lies somewhere between the fantasy Belleville of Daniel Pennac, the strange world of Fred Vargas and the amoral fantastic of the television series
Breaking Bad
."—
The Times Literary Supplement
"A poetic take on the traditional noir thriller."—
Press Association
"A convincing world of the criminal underworld . . . written in sensuous prose . . . with a gift for setting, Miské's narrative twists through the mosques, prayer rooms and synagogues of Paris."—
The Lady
"This is an intelligent, multi-layered and objective novel that will make you think and increase your awareness of the differences that lay at the heart of any modern society. You will feel emotionally invested in the character's lives, and most importantly of all feel that you have read a book that deserves to be read."—
Raven Crime Reads
"A search through the cosmopolitan world, one in which people of many different types are all trying to make a go at it. The detectives are at work trying to find the truth, not only about the murder, but about themselves as well."—
San Francisco Book Review
"Events and characters that evoke the latest headlines make this a propitious if uneasy read."—
RT Book Reviews
"Redefines noir at its darkest. . .[Miské's] ability to keep his readers on the edge of their seats and the way he handles an intricate plot without a misstep has created an amazing page-turner."
—
School Library Journal
(Starred Review)

"[A] marvelous debut."
—
Publishers Weekly

"
Arab Jazz
presents a hypercosmopolitan world, where synagogues, mosques, and pizzerias share the same street front, where you will meet Seventh Day Adventists, radical Islamists, and a Rastafarian Hasidic drug designer. Miské's writing is clever, profound, and funny, with a translation by Sam Gordon that captures the novel's rhythm and wit."
—
Ellery Queen's Mystery Magazine

"
Arab Jazz
is a fascinating and strange crime novel from a great new author."—
Mysterious Bookshop e-newsletter
"This enthralling debut revels in tropes of the crime novel even as it careers cheekily beyond the genre . . . the disparate threads connect and produce a satisfying surprise."
—
The New Yorker