The Cthulhu Casebooks - Sherlock Holmes and the Shadwell Shadows (Paperback)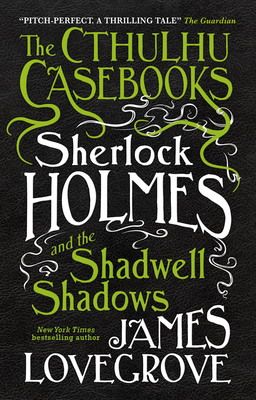 Other Books in Series
This is book number 1 in the The Cthulhu Casebooks series.
Description
---
It is the autumn of 1880, and Dr John Watson has just returned from Afghanistan. Badly injured and desperate to forget a nightmarish expedition that left him doubting his sanity, Watson is close to destitution when he meets the extraordinary Sherlock Holmes, who is investigating a series of deaths in the Shadwell district of London. Several bodies have been found, the victims appearing to have starved to death over the course of several weeks, and yet they were reported alive and well mere days before. Moreover, there are disturbing reports of creeping shadows that inspire dread in any who stray too close.
Holmes deduces a connection between the deaths and a sinister drug lord who is seeking to expand his criminal empire. Yet both he and Watson are soon forced to accept that there are forces at work far more powerful than they could ever have imagined. Forces that can be summoned, if one is brave – or mad – enough to dare…
About the Author
---
James Lovegrove is the New York Times best-selling author of The Age of Odin. He was short-listed for the Arthur C. Clarke Award in 1998 for his novel Days and for the John W. Campbell Memorial Award in 2004 for his novel Untied Kingdom. He also reviews fiction for the Financial Times. He is the author of Sherlock Holmes: Gods of War, Sherlock Holmes: The Stuff of Nightmares and Sherlock Holmes: The Thinking Engine for Titan Books.
Praise For…
---
"The pastiche is pitch-perfect; Lovegrove tells a thrilling tale and vividly renders the atmosphere of Victorian London." - The Guardian

"[A] crossover tale for the ages that's bound to please fans of both literary canons." - Starburst Magazine

"Playfully blurring the lines between fact and fiction [with]... rich [and] vivid prose." - SFX Magazine

"With its canny reflection of the modern metropolis ... the Cthulhu Casebooks is a lot of fun." - Times Literary Supplement

"a mashup designed to entertain" - kirkusreviews.com

 "If you're a fan of Sherlock Holmes, H.P. Lovecraft, or simply love the mashup literature culture that seems to be taking bookshelves by storm these days, Sherlock Holmes and the Shadwell Shadows is certainly a...wonderful read!" - Hey Poor Player

 "extremely enjoyable" - Geek Dad