Let the People in: The Life and Times of Ann Richards (MP3 CD)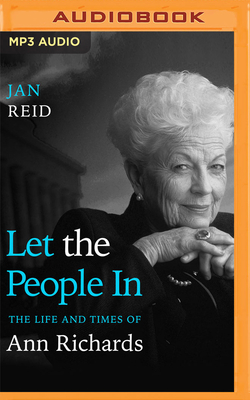 $29.99
It's complicated, and may be unavailable. Place an order and we will contact you with the expected arrival date.
Staff Reviews
---
"For me, Ann Richards was Texas politics. I was born and raised here,
the child of Democrats in a state leaving the party of LBJ in droves for
the party of Nixon and Reagan. I've read a lot of history and political biography. The description
"page turner" is not often applicable. Jan Reid's biography of Ann
Richards is exactly that. From start to finish, it's a compelling read. Let The People In
is a vibrant, full palette portrait of the most important woman in the
history of Texas politics. The Lone Star State has produced more than
its fair share of colorful and influential political figures. This fully
framed and unflinching portrait of Ann Richards' life tells the
remarkable story of how she earned her place among those colorful,
influential folks. I loved this story of Ann. She never chose between her family and her
political career. She chose to have both. She did not always manage it
perfectly. She was a lot of things to a lot of people. Wife, Mother,
Feminist, Friend and Politician, in this book Ann Richards the whole
human gets uncovered. It's not always pretty. It's never boring. You
won't want to put it down."
— Bosco