Women Who Brand: How Smart Women Promote Themselves and Get Ahead (Paperback)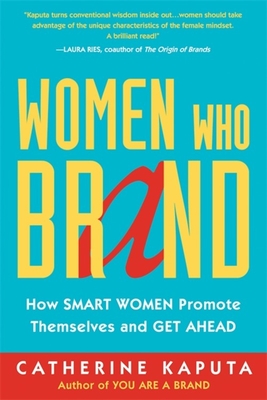 $19.95
It's complicated, and may be unavailable. Place an order and we will contact you with the expected arrival date.
Description
---
Today self-branding is not an option-it's something women need to master. Ofter what's holding women back from career success is that we don't brand ourselves as well as men do.

Women Who Brand is about what happens when women take charge of their personal brands and performance success. It's about what happens when women start thinking and acting more confidently, more creatively and more strategically about themselves and their abilities.
About the Author
---
Catherine Kaputa is the award-winning author of You Are a Brand! and Breakthrough Branding. She is a successful branding strategist and speaker and led the 'I Love NY' campaign. Catherine lives in New York City.
Praise For…
---
In my books I write about strong women and how they achieve success. In Womoen Who Brand Catherine Kaputa shows how you can do it for yourself.—Barbara Taylor Bradford, author of A Woman of Substance and Being Elizabeth

You have more power in the workplace than you may know. Whether you need a total career makeover or just a little refining around the edges, Women Who Brand will show you how to get ahead while remaining true to yourself. Empowering, insightful and fun to read.

Women Who Brand is a terrific tool to help you bring your authentic self to work and leave the mini-man image and behavior behind.—Mary Lou Quinlan, CEO, Just Ask a Woman and author of Just Ask a Woman: Cracking the Code of What Women Want and How They Buy

Kaputa, a marketing and branding whiz, mines anecdotes from successful women and her own personal experience. Stuffed with self-evaluation materials, direct advice and useful exercises, Women Who Brand is a well-organized primer on a familiar argument. In uncertain economic times, this text should prove useful for job seekers, the underemployed, and those striving for advancement.—Publishers Weekly

Kaputa turns conventional wisdom inside out...women should take advantage of the unique characteristics of the female mindset. A brilliant read!—Laura Ries, coauthor of The Origin of Brands