Bandit Love (Paperback)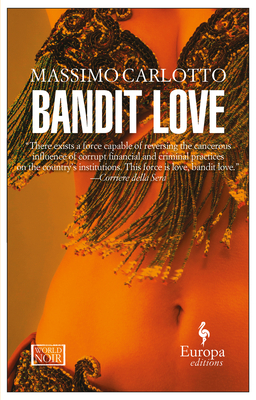 Description
---
Massimo Carlotto has been called "the reigning king of Mediterranean noir" (Boston Phoenix) and "the best living Italian crime writer" (Il Manifesto). Here, making his American debut, is Carlotto's most famous and beloved serial character: ex-con turned private investigator Marco Buratti, a.k.a The Alligator.

Closing the door on a crime ridden past, Marco Buratti plans to spend the rest of his days in the darkness of a seedy nightclub sipping Calvados and listening to the blues. But things don't quite work out as he planned: though he may be through with his past, his past isn't through with him. When his gangster friend, Beniamino Rossini's girlfriend is kidnapped, Buratti is forced to investigate a case of international drug dealing. He will be thrown headfirst into the underworld he had struggled to escape. Here, new and old criminal organizations collide and innocent bystanders are as hard to find as straight cops.

Marco "The Alligator" Buratti is not only one of the most fully realized characters in contemporary crime fiction, but also the ideal vivisector of a world in which criminals hold all the cards.
About the Author
---
Massimo Carlotto was born in Padua, Italy. In addition to the many titles in his extremely popular Alligator series, he is also the author of The Fugitive, Death's Dark Abyss, Poisonville, Bandit Love, and At the End of a Dull Day. One of Italy's most popular authors and a major exponent of the Mediterranean Noir novel, Carlotto has been compared with many of the most important American hardboiled crime writers. His novels have been translated into many languages, enjoying enormous success outside of Italy, and several have been made into highly acclaimed films.
Praise For…
---
Praise for Bandit Love

"All the hallmarks of noir are here: bloodbaths galore, a false-floored plot, a plainspoken and staccato style (the translation is smooth), and a hero who's simultaneously ruthless and sensitive, with a quirky but precisely calibrated moral sense that Carlotto explores and explains with panache. And the setting is beautifully—if grimly—realized. La dolce vita it ain't—but this is top-notch Mediterranean noir."
—Kirkus Reviews

"[A] lean, taut crime novel [...] Andrea Camilleri fans looking for something a little darker will be rewarded."
—Publishers Weekly

"Carlotto's brand of crime writing is tougher than even the toughest American noir."
—Josh Bazell, author of Beat the Reaper

"Bandit Love is a gripping novel that can be read on different levels, as a breathtakingly dark noir novel or as a means of penetrating reality. These two levels magically blend in Massimo Carlotto's books."
—Il Manifesto

"A cocktail of mystery and romanticism, a novel in which there are no real heroes and no signs of redemption. In short, classic Carlotto."
—Rolling Stone (Italy)

"Carlotto is a master of the genre. He keeps the reader on the edge of his seat from start to finish with compact, incisive storytelling."
—Il Giornale de Vicenza

"Once again, gangsters and beatuiful women, plot twists and rampant crime become the means through which Carlotto recounts the impossibility of living in a country overrun by constructed fears, unbridled excess, and hideous overpasses."
—L'Unità

Praise for Massimo Carlotto

"Massimo Carlotto has a history as riveting as any novel."
—Chicago Tribune

"Carlotto is the reigning king of Mediterranean noir."
—The Boston Phoenix

"In hardboiled fiction, there is this hardcore Italian guy I suggest: Massimo Carlotto. Tough as fuck."
—Guillermo del Toro, Director

"The best living Italian crime writer."
—Il Manifesto

Mediterranean Noir "packs plenty of plot into a slim volume, with space set aside for elaborate northeast Italian meals, musings on women, and plenty of Calvados drinking."
—The Daily Beast

"Carlotto's taut, broody Mediterranean noir is filled with blind corners and savage set pieces."
—The New Yorker

"Beneath the conventions of Continental noir is a remarkable study of corruption and redemption in a world where revenge is best served ice-cold."
—Kirkus Reviews