Lone Star Noir (Akashic Noir) (Paperback)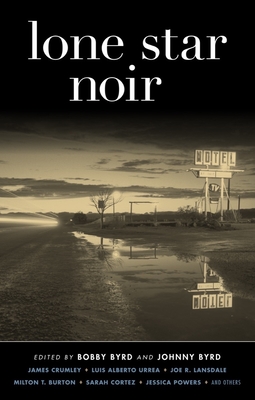 Description
---

"Sure to be of regional interest and to appeal to fans of noir or 'dark' fiction, this spicy black brew of sinister thrills is not for the squeamish or the easily offended."
--Library Journal "Unsettling and shivery."
--Kirkus Reviews "Crime, like politics, is local. The folks at Akashic Books understand this . . . "Lone Star Noir" is a solid collection. Heck, it better be -- the state's red clay looks like dried blood. Noir grows out of the ground here."
--Austin American-Statesman "What makes Texas noir different from any other noir? Is it just that the gumshoes wear cowboy boots? . . . Akashic Books finally turns its attention to the biggest state in the Lower 48, but all that land just means more places to bury the bodies. As father-son editing partnership Bobby and Johnny Byrd observe in their introduction, this isn't J.R. Ewing's Lone Star State. This is the Texas of chicken shit bingo, Enron scamsters, and a feeling that what happens in Mexico stays in Mexico. ...] So what defines Texas noir? Who knows, but you better pray that blood doesn't stain your belt buckle."
--Austin Chronicle Includes brand-new stories by: James Crumley, Joe R. Lansdale, Claudia Smith, Ito Romo, Luis Alberto Urrea, David Corbett, George Weir, Sarah Cortez, Jesse Sublett, Dean James, Tim Tingle, Milton Burton, Lisa Sandlin, Jessica Powers, and Bobby Byrd. Bobby Byrd is the co-publisher of Cinco Puntos Press in El Paso, Texas. As a poet, Byrd is the recipient of an NEA Fellowship, the D.H. Lawrence Fellowship awarded by the University of New Mexico, and an International Residency Fellowship. John Byrd, co-publisher of Cinco Puntos Press, is co-editor (with Bobby Byrd) of the anthology Puro Border: Dispatches, Snapshots & Graffiti from La Frontera. He is also a Spanish-to-English translator and a freelance essayist.