When Rap Spoke Straight to God (Paperback)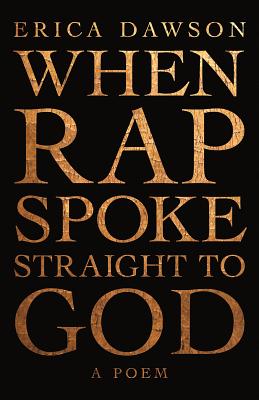 Description
---
When Rap Spoke Straight to God isn't sacred or profane, but a chorus joined in a single soliloquy, demanding to be heard. There's Wu-Tang and Mary Magdelene with a foot fetish, Lil' Kim and a self-loving Lilith. Slurs, catcalls, verses, erasures--Dawson asks readers, "Just how far is it to nigger?" Both grounded and transcendent, the book is reality and possibility. Dawson's work has always been raw; but, When Rap Spoke Straight to God is as blunt as the answer to that earlier question: "Here." Sometimes abrasive and often abraded, Dawson doesn't flinch.
A mix of traditional forms where sonnets mash up with sestinas morphing to heroic couplets, When Rap Spoke Straight to God insists that while you may recognize parts of the poem's world, you can't anticipate how it will evolve.
With a literal exodus of light in the book's final moments, When Rap Spoke Straight to God is a lament for and a celebration of blackness. It's never depression; it's defiance--a persistent resistance. In this book, like Wu-Tang says, the marginalized "ain't nothing to f--- with."